Secret Agent
(1936)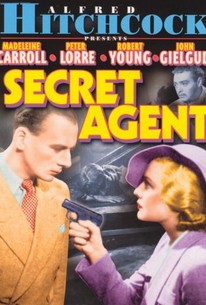 Movie Info
After his supposed funeral, a British spy (John Gielgud) pairs up with another agent (Madeleine Carroll) in Switzerland where they're sent to kill an enemy agent. Posing as husband and wife, they're taken on a death hunt into the Swiss Alps. The film was directed by Alfred Hitchcock.
News & Interviews for Secret Agent
Critic Reviews for Secret Agent
Audience Reviews for Secret Agent
Well, considering that this was based on some works by W. Somerset Maugham, directed by Alfred Hitchcock, and starred John Gielgud and Peter Lorre that it would be one terrific WWI spy thriller. Surprisingly as it turns out, this film is pretty bad. It's bland, dull, but worst of all boring. Gielgud looks bored and uninterested, Lorre feels out of place, and the plot (three agents join up to take out an undercover spy, but things get complicated when two of them suffer crises of conscience) should be awesome, but I just couldn't get involved or care about it. On top of that, the poicture and sound quality are both really pretty bad at times. I know that not everything Hitch did was good (at least), but this is just alarmingly terrible. It's as if while making this he had overdosed on apathy pills and stopped trying. The big train crash climax isn't great, mostly because of the silly and bad effects, but it at least got my attention since it was something happening, instead of lots of nothing taking place. Even if you're a Hitch diehard, just spare yourself a mess and skip this.
Chris Weber
Super Reviewer
I love Lorre, but his character wasn't that great in this movie. Plus, I didn't get the plot. Maybe I should see it again, but the movie quality is so horrible it's hard to watch.
½
Decent early Hitchcock with all his classic elements here but also still in their nascent form. As with most of his beginning films the picture itself is very dark and murky, probably due to age of the film and budget constraints at the time. Good performances from all the cast, Lorre stands out as usual.
Secret Agent Quotes
There are no approved quotes yet for this movie.