Spione (Spies) (The Spy)
(1928)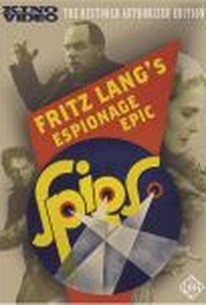 Spione (Spies) (The Spy) Photos
Movie Info
Spies (Spione) was the first independent production of German "thriller" director Fritz Lang. The years-ahead-of-its-time plotline involves Russian espionage activity in London. The mastermind is Haghi (Rudolph Klein-Rogge), a supposedly respectable carnival sideshow entertainer. Heading the good guys is Agent 326 (Willy Fritsch), with the help of defecting Russian spy Sonya (Gerda Maurus). The film moves swiftly to several potential climaxes, each one more exciting than its predecessor. Haghi's ultimate demise is a superbly staged Pirandellian vignette. Anticipating Citizen Kane by a dozen years, director Lang dispenses with all transitional dissolves and fade-outs, flat-cutting territory from one scene to another. The film was co-scripted by Lang and his then-wife Thea Von Harbou. ~ Hal Erickson, Rovi
News & Interviews for Spione (Spies) (The Spy)
Critic Reviews for Spione (Spies) (The Spy)
Audience Reviews for Spione (Spies) (The Spy)
"Spies" is not a visionary masterpiece like Fritz Lang's better known "Metropolis." But like "M," "Dr. Mabuse, the Gambler" and even "Woman in the Moon," it's an impressive genre picture that seems years ahead of its time. The plot is squarely on James Bond turf. There's an archvillain in a wheelchair, sitting behind a desk covered with high-tech switches and lights. There are fingernail-sized cameras, cyanide capsules, opium dens, secret identities, notes written in disappearing ink and rooms with sliding security doors. There's a "MacGuffin" -- a secret Japanese/Europe peace treaty -- that multiple parties are maneuvering to protect or steal. (What would a criminal even gain from having it?) There's a handsome Agent #326 with a rakish, maverick personality (well, at least he until makes the mistake of falling in drippy love, something Bond would never do). And of course, there is plenty of expertly directed action and suspense -- particularly a late sequence involving a sabotaged train. "Spies" also may contain more suicides than any film outside of "Guyana: Cult of the Damned." A perverse quirk. From a dazzling introduction recapping the treaty's violent theft and the resulting chaos, we know we're in the hands of a master filmmaker. Lang's rapid cutting suggests that he could have easily helmed a contemporary blockbuster, and the sets are intriguingly stylized like in so many other German silents. Inventive camera angles are everywhere -- even shots of a boxing ring and people-clogged staircases become something fresh. Where the film shows its age in the love story. The underworld mastermind Haghi (Rudolf Klein-Rogge, who also played Dr. Mabuse) hires a beautiful Russian agent (Gerda Maurus) to extract information out of #326 (Willy Fritsch), but the two quickly swoon for each other in the most hokey, overacted fashion. Whenever the story switches focus to their forbidden romance, the film lags. Another outdated move is casting an European actor to play Dr. Matsumoto, an important Japanese character. But these are small quibbles. This is a 144-minute silent film which never seems overlong (a good trick), and the action builds to a brilliantly absurd ending that Quentin Tarantino couldn't have written any better.
Eric Broome
Super Reviewer
This is a good spy movie, but I just wish it were shorter. The movie is cool visually, and the actors are good. The story is a lot like other movies I've seen, but it's pretty good anyway. Overall, a good movie from a good director.
it's spy vs. spy until they fall in love and team up to foil an evil banker's plans for world domination. impossible not to compare it with dr mabuse from 1922; for one thing the same actor plays the villain here. at 2 1/2 hrs, it's not as long but also i fear not quite as much fun. the ending is great tho
Stella Dallas
Super Reviewer
Spione (Spies) (The Spy) Quotes
There are no approved quotes yet for this movie.