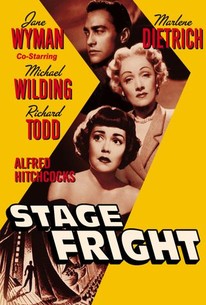 Stage Fright
1950, Mystery & thriller, 1h 50m
23 Reviews
5,000+ Ratings
Where to watch
Rent/buy
Rent/buy
Rate And Review
Movie Info
The police think actor Jonathan Cooper (Richard Todd) is a murderer, and now they're on his tail. He asserts that it was his lover, the famous actress Charlotte Inwood (Marlene Dietrich), who killed the victim (not coincidentally, her husband). He seeks shelter with his ex-girlfriend Eve (Jane Wyman), a budding actress. Convinced Jonathan is innocent, Eve plays detective and assumes multiple disguises. But once she is entangled in a web of deception, she fears everyone in fact wears a mask.
Audience Reviews for Stage Fright
Hm, well, it's an Alfred Hitchcock film that is ever so subtly titled "Stage Fright", so do you reckon that this is some kind of a thriller or something? Jeez, I don't know, because British storytelling is so dry that it's sometimes hard to tell if you're supposed to be scared or amused. I think that this film has its comedic occasions... or its intense occasions, I can't tell, because, make no bones about, this film is British something fierce, ostensibly to commemorate Hitchcock's return to the London soundstage. I'd say that celebrations had to have been in order in 1950, but the man was in Hollywood for less than fifteen years, and at any rate, after "Jamaica Inn", I'm wondering if Britain really wanted him back. Well, looking at the money that Hitchcock made before his major decade of the '50s in Hollywood, I'm betting Britain was glad to get those pounds back on, both in the British monetary sense and, of course, in the American weight sense. I don't know, maybe people were just too excited to get the big boy back, because, quite frankly, if this is what the Brits were fearing after "Jamaica Inn", then I can see what shook them up. Yeah, this isn't exactly an impressive homecoming for Hitchcock, but it could be worse, having its share of strengths. The film is so lazy as an Alred Hitchcock film that even visual style feels under-inspired, but this is still Hitchcock we're talking about, and sure enough, the visual style, anchored by Wilkie Cooper's cinematography, offers often effectively near-bleak lighting and solid framing that immerses, at least aesthetically. What further immerses is the acting, at least to a certain degree, as many performances fall flat, with the most notably underwhelming performance, of course, being by Jane Wyman, whose unconvincing English accent and other areas of line delivery, and empty charisma craft a mediocre lead who is therefore instrumental in the final product's own mediocrity, yet there are certain colorful supporting performances that are genuinely worth remembering. Well, not even the relatively decent performances are all that inspired, but what the film lacks in an endearing lead it all but makes up for with an endearing supporting cast, just as the story has enough intriguing ideas to all but make up for the fall-flat aspects. Make no bones about it, the flat attributes of the drama are plentiful, or at least seem to be, given that the execution is so flat, but on paper, with layers of humor, mystery and human intrigue, this is a fairly interesting narrative idea that is sometimes done genuine justice by highlights in the writing, however limited, and by highlights in direction, however, well, limited. Yes, by 1950, alone, Hitchcock has established himself as quite the talented filmmaker, especially during his time in Hollywood, but here, his directorial performance is either so under-inspired or so autopilot that it bores on the whole, and yet, Hitchcock's tired directorial performance could see only so much juice washed out, so, of course, there are times in which Hitchcock's dryly thoughtful direction proves to be effective in drawing on subtle touches in this mostly overblown affair. Really, the strengths are a struggle to discuss at length, as they are just so limited, yet they are there, prominent enough to be kind of charming in their efforts, almost to the point of endearing you to the final product enough to find a pretty decent effort. Of course, on the whole, the film surprisingly falls flat, having potential that Hitchcock just couldn't do as much justice as he did with most of his projects, even when it comes to the thrills. Again, Alfred Hitchcock has occasions of effectiveness when it comes to drawing on the film's layered tone, but on the whole, there's something lazy about Hitchcock's directorial approach to this thriller, resulting in a general flatness that is not helped by tonal inconsistencies, for although the flat tone settles a sense of tonal dynamicity and, by extension, unevenness, Whitfield Cook's and Ranald MacDougall's script tends to jar in its leaps between telling a juicy mystery tale and telling a lighthearted fluff piece. Of course, momentum-shaking unevenness does not only rest in the tone, because in structural pacing, the film is all but all over the place, brushing over certain areas in key development, but mostly dragging its feet with meandering, perhaps even repetitious excess in storytelling that, when backed by atmospheric flat spells, dull things down something fierce. Indeed, people, a heavy blow dealt to this film comes from dullness, because when Hitchcock's thoughtfulness runs out of material, things dry like a bone, and make no mistake, material is awfully lacking in this aimless thriller, and made bland enough on its sheer familiarity. When I say that this is a very formulaic Hitchcock effort, I really do mean that this film is trite, and not just as a Hitchcock effort, being ostensibly driven by its mystery, which is shaken by the overwhelming predictability which reinforces a sense that this film's storytelling has nothing new to say, and is apparently aware of that, to where it barely bothers saying anything all that extensively at all. Characterization is there, even if developmental shortcomings limit them, but there's something so empty about it, so even as a character drama, this film is flat, as surely as it falls flat as a fluff piece and thriller, at least when it backs all forms of storytelling with improbability. Perhaps the film's dramatic core could have stood a more solid chance of proving effective if it wasn't so blasted histrionic, on top of flat in momentum, being bloated with melodramatics that are sometimes near-embarrassing and consistently distancing, with a certain cheesiness that further reflects the laziness which does the final product's decency. Again, there's enough charm to the inspired areas in this film for the final product to be almost saved as fair, but at the same time, the lazy areas frustrate, and are ultimately most recurring, boring and distancing you until the final product finally sputters out as mediocre, despite its promising spots. Once the curtain has fallen, the film all but ascends to decency on the back of intriguing story concept aspects that is done justice by handsome cinematography and highlights in acting and direction, yet under the overwhelming weight of distancing tonal and pacing unevenness, a mostly cold atmosphere, shameless conventions, empty characterization and, of course, aggravatingly disingenuous melodramatics, Alfred Hitchcock's "Stage Fright" falls flat as a sometimes charming, but mostly mediocre misfire for Hitchcock's return to British cinema. 2.25/5 - Mediocre

I watched it only because it was going off of Netflix streaming. I just for the life of me could not get into this film. I wasn't invested in any character or interested in the story at all. Even with Marlene Dietrich in it. I'm not even sure if at the end I really knew all what was going on. Sorry, I am just not a Hitchcock girl for the most part...

This is such a creative and fun mystery movie. Sometimes it's a little confusing maybe, but in the end it's worth it. For some reason this is a lesser known Hitchcock movie, but it's one of my favourites, and I highly recommend it.

Hitchcock considered the film's 'false flashback' sequence to be one of his greatest mistakes, citing that it made audiences feel betrayed. I'm not sure if it's quite as bad as all that but, in hindsight, it does seem to be an underhanded trick. Perhaps I'm more forgiving because the cast here, notably Jane Wyman, Marlene Dietrich and Alastair Sim, are just so damn good. As it is, <i>Stage Fright</i> is a second tier Hitchcock production but only because others like <i>Vertigo</i> and <i>Strangers on a Train</i> set the bar so high.
See Details