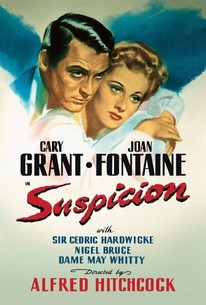 Suspicion
1941, Mystery & thriller, 1h 39m
33 Reviews
10,000+ Ratings
What to know
critics consensus
Not even notorious studio meddling can diminish the craft and tantalizing suspense of Suspicion, a sly showcase for Joan Fontaine's nervy prowess and Alfred Hitchcock's flair for disquiet. Read critic reviews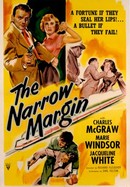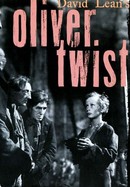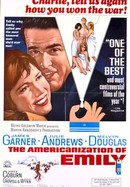 The Americanization of Emily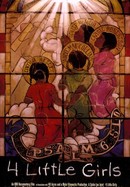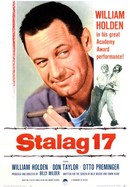 Where to watch
Rent/buy
Rent/buy
Rent/buy
Rate And Review
Movie Info
Charming scoundrel Johnnie Aysgarth (Cary Grant) woos wealthy but plain Lina McLaidlaw (Joan Fontaine), who runs away with him despite the warnings of her disapproving father (Cedric Hardwicke). After their marriage, Johnnie's risky financial ventures cause Lina to suspect he's becoming involved in unscrupulous dealings. When his dear friend and business partner, Beaky (Nigel Bruce), dies under suspicious circumstances on a business trip, she fears her husband might kill her for her inheritance.
Audience Reviews for Suspicion
The romance between the two characters is developed in a clumsy way in the beginning, but soon the film grows to become a nice, taut thriller directed with a firm grip by Hitchcock, who builds a gripping suspense that only disappoints in the end with a silly, frustrating payoff.

Hitchcock knew how to use Grant to his full potential and he is mysterious as heck in this film to good effect. Other Hitchcocks have more of a fan base but this is one not to be forgotten.

Hm, so, let me see, do you reckon this is supposed to be a suspense film or something? Oh man, that is one startlingly obvious and uncreative title! Well, it's not like Alfred Hitchcock's got any more creative after this film, so I suppose this marked an end in Hitchcock's inspiration... many years before "Dial M for Murder", "Rear Window", "To Catch a Thief", "Vertigo", "North by Northwest", "Psycho" and "The Birds. Well, it was at least evidence of Hitchcock losing his inspiration in creative titling, because even this film had enough inspiration to score an Oscar for Best Actress. It's the only Oscar-winning performance in a Hitchcock film, which is kind of bogus, because Joan Fontaine was pretty firmly topped by plenty of people who didn't even get nominations. Well, I don't know if I can give Fontaine all that much heat, because she is very good and the film, and probably would have been better if she had the material that many of Hitchcock's other collaborators got when they were in thrillers in which more stuff actually happened. No, this film has a pretty decent bit of effectiveness, but it's far from the most thrilling Hitchcock thriller, for a number of reasons. Despite being so character-driven, this drama seems to slam-bang development, sometimes glaringly, while placing only so many layers to its characterization, until you can't help but feel rather distanced from the undercooked, maybe even thin characters, as well as their conflicts, which are distancing enough for other reasons. Flaunting questionable dialogue (Ladies, would you marry a man who nicknamed you Monkey Face?), subtlety issues and other happenings of limited probability, this film too often feels too manufactured as a melodrama, overwrought with Hollywood histrionics that tend to devolve into cheese, one way or another, no matter how much it reaches that point inconsistently. Although it keeps consistent in the questionable probability, the core of this dramatic thriller rather leaps between subtlety, if not fluff, and intensity rather messily, what with its spending too much time dragging along a certain dramatic layer, until it begins to feel aimless. The film's storytelling is overblown, and yet, the story itself does not have the meat to justify so much fat around the edges, because as bloated as this drama's tones and conflicts are, the narrative concept itself is lacking in intrigue, partly because it's just too blasted familiar. I might be a little more willing to forgive all of the developmental shortcomings, inconsistencies and Hollywoodisms if the film was more unique, having some refreshing elements, but many more elements that are more-or-less nothing new, and leave the film to feel hopelessly predictable. The film is well-done in enough places for you to not mind the predictability substantially, but this is nevertheless a worn down path, further roughed up by inconsistencies in tonal and pacing structured, and shameless melodramatics, until one might find this flick too great of a challenge to decency. There's enough laziness here to drive the final product into mediocrity, yet at the same time, there's enough inspiration to save the film as fairly decent, particularly in such areas as visual style. A black-and-white affair, this film's visual style is dated, but for the time, it's outstanding, and still mighty remarkable to this day, with Harry Stradling Sr.'s cinematography making haunting plays on shadows that stress lighter moments beautifully, while making the darker moments bleak in a fashion that is immersive in a thriller like this. Despite its being dated, this film's visual style is undeniably impressive for what it is, actually putting coloration limitations to good use in order to absorb a sense of tonal layering that is more organic than the tonal layering within Samson Raphaelson's, Joan Harrison's and Alma Reville's script, and couldn't have been pulled off without Alfred Hitchcock's stylish directorial celebration of the film's visuals. His framing relatively impeccable, Hitchcock augments the substance value of the film's visual style with a tight attention to intimate imagery, while playing with atmosphere sharply enough to keep pacing from slipping so deeply into its slow spells that it bores, if not entertain through plays on Franz Waxman's colorful score. Really, if the film has nothing else going for it, it is entertainment value, which, even then, is limited, but not to where it fails to sustain a fair consistent degree of your attention, eventually incorporating dramatic highlights which draw such attention to the narrative's potential. The story concept is melodramatic and familiar, and its execution would be all over the place in tone if it wasn't so draggy in its layered progression, but as a study on a wife's gradual discovery of dark secrets within her beloved husband that grow darker and darker as the path to success grows brighter and brighter is nothing short of intriguing, sold reasonably well by Hitchcock's efforts, as well as the efforts of the performers. The characters are lacking in development and layers, and are made all the harder to buy by the histrionics, but their portrayals do what they can, with charisma and relatively solid dramatic depth, particularly within the beautiful Joan Fontaine, whose lead performance particularly sells the character-driven conflicts every step of the way. While Fontaine's performance isn't particularly outstanding, I wish that the rest of the film was more worthy of it, rather than borderline mediocre, and yet, there's enough bite to this drama to save the film as decent and adequately effective, even though it could have sunk its teeth much deeper. Once the tension finally breaks, the film all but falls into mediocrity under the weight of a minimalist story's being handled with limited development, Hollywood histrionics, inconsistencies in pacing and tone, and much in the way of conventions, yet enough support comes from solid cinematography, reasonably effective direction and good performances - particularly the lead one by Joan Fontaine - to secure Alfred Hitchcock's "Suspicion" as a decent, if somewhat lacking dramatic thriller. 2.5/5 - Fair

Quite a disappointment for me, one of Hitchcock's worst films. I just felt it bumbled along and I didn't really get the suspicion. It didn't rub off on me enough so I didn't really care what happened.
See Details