Suspiria
(1977)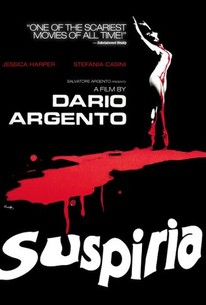 Movie Info
A candy-colored nightmare from Italian terror maestro Dario Argento, Suspiria weaves a menacing tale of witchcraft as a fairy tale gone horribly awry. From the moment she arrives in Freiberg, Germany, to attend the prestigious Tans Academy, American ballet-dancer Suzy Banyon (Jessica Harper) senses that something horribly evil lurks within the walls of the age-old institution. Ill at ease as the result of her fellow student's peculiar behavior and increasingly terrified following a series of gruesome and spectacular murders, Suzy slowly begins to unravel the dark history of the academy. Convinced that the occult roots of the school and the horrific tale of its founding mother may hold an unthinkable secret, she begins a hallucinatory journey into the black heart of one of the most powerful witches ever known to exist. As Suzy edges ever closer to a secret that may hold the answers to all of her nightmares, the coven's grip on her soul begins to tighten until there is seemingly no escape. Will Suzy solve the mystery of the cursed academy before the fearsome Black Queen consumes her, or will she finally reveal the secret that has forever haunted the lavish corridors of the academy and bring an end to the Black Queen's terrifying reign?
People Who Like this movie also like
Critic Reviews for Suspiria
Audience Reviews for Suspiria
Dario Argento's most popular film is a must-see for seasoned horror fans. The violence is extreme, it's astoundingly creepy, beautifully filmed, and Goblins' score is one of the best film scores of all time. The only setback is the low production value and clearly dubbed audio, but don't let that stop you from experiencing this iconic work of the horror genre.
Edward Boxler
Super Reviewer
Classic horror by Dario Argento. The film is quite mesmerizing with Argento's brilliant use of lighting and cinematography which creates an eerie mood well accompanied by Goblin's brilliant soundtrack. The use of chimes in horror seems to quietly get you. Argento's use of rain is just one of those things that stands out to me when I see work of this caliber. Argento is an artist who is going to tell you a story with unusual pictures, sound, sets, and sometimes the most minimal thing to remind you what you're watching. Boo! It's also quite easy to see and hear the influence this film has had on various filmmakers in the horror genre. "Slicing and dicing", glowing eyes in a window, here a witch, there a witch, what have you. This is one fine freak fest.
½
Classic italian horror and the score is great.
Graham Jones
Super Reviewer
Suspiria Quotes
| | |
| --- | --- |
| Sara: | And on a restricted diet, they give you wine? |
| Suzy Bannion: | That's professor Verdegast's idea. Says i'tll build up my blood. |
| | |
| --- | --- |
| Olga: | Susie... Sarah... I once read that names which begin with the letter 'S' are the names of SNAKES! Ssss! Ssss! |
| Olga: | Susie. Sarah. I once read that names which begin with the letter 'S' are the names of SNAKES! |