The Time Travelers
1964, Sci-fi, 1h 22m
3 Reviews
100+ Ratings
Bulldog Drummond's Revenge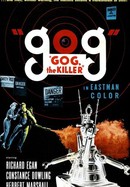 Teenagers From Outer Space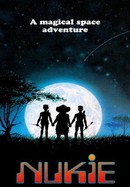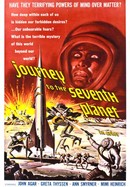 Journey to the Seventh Planet
Rate And Review
The Time Travelers Photos
Movie Info
Research scientists experimenting with time warps are accidentally propelled forward into an unbearable future.
Audience Reviews for The Time Travelers
It's kitsch, but it's also clever. Great little 60's sci-fi film!

Since watching this I found out that this movie actually inspired the classic TV series 'The Time Tunnel', which I do recall as a kid. It also inspired the movie 'Journey to the Center of Time' which I have not heard of before. The main difference here is the time machine in question is a rather stupid looking large flat TV screen or monitor, in the later TV series it was a neat looking black and white, hypnotic, cylindrical tunnel. I think the plot pretty much explains itself really, or at least you can guess. Some whizz scientists are working on a time viewing device which would allow them to look into the past (or future) as if watching your TV. Sounds kinda stupid doesn't it...and you'd be right! (How could you watch events in the past unfold through a screen, whilst on your side the year/time remains the same?). The machine in question is drawing way too much power it seems and the scientists are told to shut it down. Naturally before they do this there is an overload of some kind and the view screen fixes on an unknown desolate landscape (which turns out to be a future dystopian Earth in 2071). It is then discovered that the screen has somehow become a portal into this unknown future and of course, one by one, they all go through. What do you think happens next? That's right! the portal shuts down and they are trapped in the dystopian future. Luckily they come across some people, oh no they're just a rampaging mob of angry mutants. But luckily they also stumble across some other people who just happen to be peaceful geniuses that explain everything, that was lucky! It turns out that Earth has been decimated by nuclear war (what else) and is no longer habitable. So the plan is to build this space rocket and blast all of the remaining decent folk to this distant planet orbiting the star of Alpha Centauri. At first the time travellers are offered a place on board the ship, but after a weight ratio issue is pointed out it turns out they cannot. Instead the future cave dwellers offer to help reconstruct the time viewing screen and reopen the portal. So the race is on to complete the ship and rebuild the time viewing screen before the goodies get overrun by the hordes of mutants after their food supplies. This is literally the epitome of the classic family fantasy adventure genre, mixed with all the cliched tropes and cliches. You know, the type of flick you'd see on ITV during a lazy bank holiday afternoon. You have virtually everything you could ever want right here: the overly used bleak dystopian future, mutants, underground civilisations, time travel, robots, spaceships, talk of other worlds and of course the old nuclear element. It might seem like overload but somehow it all fits in and works, these old movies somehow managed to do that. Certainly no chances of not getting bang for your buck back in the day. But seriously, it is amazing to read about this movie and not think it sounds like utter garbage. I mean in all honesty there are a lot of issues with the movie, silly issues, obvious plot holes and continuity problems. As I've already said the entire idea of a large TV screen that can view the past (or future) is just inanely daft. Then once the screen turns into a portal they all go through the damn thing; running off into this unknown landscape! I mean sure I understand the curiosity of the situation but surely the last person should of stayed put, you know just in case the portal...eh too late. The mutants they find are yet again a bunch of bald males because that seems to be the default look back in the 50's and 60's. Whilst the regular unmutated folk they meet are all good looking, white and dressed in beige. The good guys are also the usual team of scientist types you always see in these types of movies, with some great names. You have the tall, dark and good looking male leader of the bunch, Dr. Steve Connors (Philip Carey). A younger male who also serves as comedic relief, Danny McKee (Steve Franken), and the attractive female Carol White (Merry Anders). But what sci-fi flick from the 50/60's would be without the stereotypical old bloke with facial hair in a white lab coat, Dr. Erik von Steiner (Preston Foster). On the flip side the good guys they discover living underground are also a stereotypical bunch of people ranging from attractive women and good looking young men to various ageing blokes with facial hair. They also have created an entire army of robots to assist them down there, robots that are eerily human when they move and scarily similar in looks to fetish sex dolls. Their heads and mouth sections look a tad naughty if you ask me, maybe that's just me. Anyway questions do arise pretty quickly when you see all this. Like how the feck did these people manage to build all this shit?? Where do they get all the raw materials from? How could they possibly manage to build a flippin' space rocket?! Who makes all their clothes? Do they have toilets and a plumbing system down there too? Why do they have a disco? Yes that's right I did say disco, at one point one sexy female (complete with knee high boots) shows McKee this musical instrument thing with disco lights. Its so bloody 60's its unreal, brrr! Anyway much of my complaints were erased once the iconic John Hoyt strode on screen. Yep the silver fox of many classic old sci-fi flicks is the leader of this bunch of 60's beige wearing techno wizards. His name...Varno, Dr. Varno...bloody stupid name innit? Is it me or does it sound a bit similar to the classic Dr. Eric Vornoff ('Bride of the Monster'), in fact it seems like there's a general influence in this movie with that name. The visuals in the movie are generally what you would expect from a product of the 60's. Overall its a very colourful feature with pink robots (which enhances their sexual visage in my opinion), colourful control panels with lots of flashing lights, various shades of jumpsuits for the future folk and bright quirky looking equipment. The actual effects are basic and crude but generally pleasing to the eye and of course charming by today's standards. Lots of nice model work, tonnes of set and prop work, back projection, matte paintings and some pretty decent live action effects too. At one point a robot is pinned against the wall by a spear chucking mutant. The other mutants then proceed to tear the lower half of the robots body away leaving the torso (still alive) dangling off the wall. This was a very Romero-esque moment for me and it actually looked great. Obviously an actor was peaking through a hole behind the wall and the lower half of the robot was fake, twas quite dark, highly effective and totally unexpected. I'm not gonna lie about this movie (have I ever?), but to look at it, it generally looks like an episode of any 60's TV series like [i]Star Trek[/i] or indeed the movies own spin-off. That's not to say that's a bad thing, it is cute looking but at the same time wholly cheap and very dated...except for a few brief moments. Everything about the movie is pretty much by the books and as you would expect from such a feature such as the acting and various oddities. Like how did the mutants topple the space rocket exactly? How tight is John Hoyt's jumpsuit?? But on the other hand the films director (Ib Melchior) certainly takes the story seriously. The explanation of weight ratios which resulted in the time travellers being unable to join Varno and co on the rocket seemed pretty well thought out and logical. Also the time paradox ending certainly had some thought behind it with the whole overlapping of your own past notion, although I'm still not sure how the plot would loop as it does, or did it?? (genuinely unsure). Its a shame Melchoir kinda spoilt the film by having a ridiculous moment where Franken's character McKnee breaks the fourth wall. I get this guy was the comedy aspect and probably to grab the youngsters attention (the disco scene) but it really pulls you out of the movie. In the end you get what you expect even though the movies poster is completely inaccurate (usually the case for these old flicks). It doesn't really feel like a movie and it is admittedly very basic in general, but gosh darn it its a lot of fun! As I originally said the movie gives you a lot to deal with, it crams tonnes of content into the plot so its impossible to get bored. Strangely it never seems to feel overstuffed and walks that tightrope between fun and fail amazingly well. In essence its the corking plot that saves the day (along with Hoyt), its ambitious, daring, bleak and open ended. Essentially this is a perfect sci-f fantasy adventure that encompasses loads of elements, I defy anyone not to enjoy this.

A few interesting ideas but this is a silly movie.
See Details