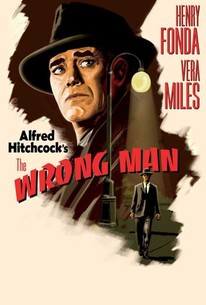 The Wrong Man
1956, Crime/Drama, 1h 45m
27 Reviews
5,000+ Ratings
Where to watch
Rent/buy
Rent/buy
Rent/buy
Rate And Review
Movie Info
Musician Manny Balestrero (Henry Fonda) needs money to pay for his wife Rose's (Vera Miles) dental procedure. When he tries to borrow money from their insurance policy, someone at the office mistakes him for a man who had robbed them twice at gunpoint. After Manny is arrested, his defense attorney, Frank O'Connor (Anthony Quayle), works to demonstrate that Manny has an alibi for the crimes. The stress of the case, however, threatens to destroy Manny's family before his name can be cleared.
Audience Reviews for The Wrong Man
I have to say, usually in this country it's an African-American man who gets arrested as the 'Wrong Man', but this Hitchcock film is indeed based closely on a true story. It's interesting to ponder why Hitch announces that fact at the outset, and I suppose it's because therein lies the true horror: that at any time, while minding our own business, we might be arrested and accused of crimes we haven't committed. We might be have our freedom taken, get locked up in a cage, and find ourselves at the mercy of the judicial system. The scenes where Henry Fonda is imprisoned are absolutely brilliant, as are the ones of him on trial, looking around the courtroom, and noticing the trivial little behaviors of those around him, while his own life hangs in the balance. The pace of this movie is a little slow at times, but a part of that is intentional, and heightens the realism. The police procedures may have you shaking your head, as will the notoriously unreliable eyewitness testimony. There is a bit of a twist in the story concerning Fonda's wife, played by Vera Miles, which I didn't expect. It's not Hitchcock's best work, but it is the most direct statement of his concerning this motif which appeared in so many of his films, and certainly worth watching.

I never would have guessed that The Master at the height of his powers could fashion a film so desperately dull. Watch Henry Fonda get arrested, taken for questioning, get fingered in a lineup, stand for arraignment, go to prison, empty his pockets, count his change, and so on, all in tedious step-by-step detail. This was a personal project for Hitch in that it was a true story that fascinated him, even using some of the actual locations for shooting, but the subject of a wrongly accused man is nothing new to today's more socially conscious citizen. The only remarkable facet of the case is that the distress caused the wrong man's wife (Vera Miles) to be institutionalized for 2 years. Makes <i>The Paradine Case</i> look like <i>Inherit the Wind.</i>

In this very somber Hitchcock offering Henry Fonda is a everyman musician for an exclusive nightclub accused of a series of petty crimes. The effect on him and his family is the focus, as their lives, just above poverty to begin with, begin to unravel. Several scenes are noteworthy, like the booking in the police station and the courtroom scene, the sense of entrapment very palpable. Not a popular film, still worth your time.
See Details