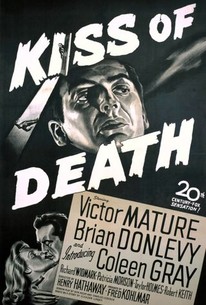 Kiss of Death
1947, Crime/Drama, 1h 38m
17 Reviews
1,000+ Ratings
Rate And Review
Movie Info
Offered parole from Sing Sing in exchange for information about one of his old partners in crime, jewel thief Nick Bianco (Victor Mature) reluctantly cooperates with district attorney Louis D'Angelo (Brian Donlevy), who's trying to take down violent murderer Tommy Udo (Richard Widmark). But when Udo goes free despite the district attorney's best efforts, Bianco and his wife, Nettie (Coleen Gray), are in the killer's sights, and he'll stop at nothing to settle the score.
Audience Reviews for Kiss of Death
Victor Mature provides a complex portrait of a thief tied to the mob. This film also features a stellar supporting cast including Richard Widmark's landmark role as a psychopath.

An all-star cast with a heart-felt story, but it could have done a better job at presenting the story or something, I just felt it could have been better in some way. Still, I think this is a good movie, and very worth seeing.

Henry Hathaway's classic film noir is powerful and intensely captivating. It tells the tale of a small-time hoodlum, Nick Bianco, played marvelously by Victor Mature in the best lead performance of his career. He is convicted of a jewel heist and sent to prison, then after serving three years because he was double crossed by his shyster lawyer, he then learns that his wife has comitted suicide, and that his children have been sent away to an orphanage, so he then makes a deal with the assistant district attorney played superbly by Brian Donlevy, and is paroled, but it's not going to be easy for Nick, he must testify against a giggling sadistic killer named Tommy Udo, that works for the mob, played with great menace by Richard Widmark, who makes his remarkable Oscar nominated screen debut as the psychotic Udo. This film made a star out of Widmark and he completely dominates it. There is a infamous, shocking scene where Udo pushes a helpless crippled old lady in wheelchair down a flight of stairs to her death, so she won't squeal! Beautiful black & white cinematography by Norbert Brodine. A gripping exciting crime drama. Highly Recommended.

This is billed as a film noir, but it plays more as a crime drama. Victor Mature plays Nick Bianco, a robber who agrees to "snitch" on his cohorts in a heist in order to see his young daughters. It's a decent suspense film, but it is most memorable not for the main story but rather for the character of Johnny Udo, a giggling psycho played by Richard Widmark in his first role. What Johnny does to the old lady in the wheelchair is now the stuff of film legend. Widmark steals every scene he's in, which admittedly isn't hard since Victor Mature isn't much of an actor and I found Colleen Gray to be kind of a dull presense. But the film is still a damn sight better than a lot of others I could name.
See Details