Alice in Wonderland
(1951)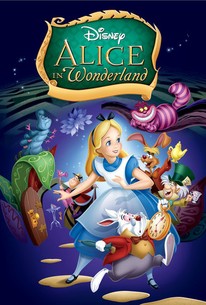 Alice in Wonderland Photos
Movie Info
This Disney feature-length cartoon combines the most entertaining elements of Lewis Carroll's Alice in Wonderland and Through the Looking Glass. Chasing after the White Rabbit, who runs into view singing "I'm Late! I'm Late!," Alice falls down the rabbit hole into the topsy-turvy alternate world of Wonderland. She grows and shrinks after following the instructions of a haughty caterpillar, attends a "Very Merry Unbirthday" party in the garden of the Mad Hatter and the March Hare, stands in awe as the Cheshire Cat spouts philosophy, listens in rapt attention as Tweedledum and Tweedledee relate the story of the Walrus and the Carpenter (a sequence usually cut when Alice is shown on TV), and closes out her day with a hectic croquet game at the home of the Red Queen. The music and production design of Alice in Wonderland is marvelous, but the film is too much of a good thing, much too frantic to do full honor to the whimsical Carroll original, and far too episodic to hang together as a unified feature film. One tactical error is having Alice weep at mid-point, declaring her wish to go home: This is Alice in Wonderland, Walt, not Wizard of Oz! Its storytelling shortcomings aside, Alice in Wonderland is superior family entertainment (never mind the efforts in the 1970s to palm off the picture as a psychedelic "head" film).
News & Interviews for Alice in Wonderland
Critic Reviews for Alice in Wonderland
Audience Reviews for Alice in Wonderland
½
This is how the story of Alice in wonderland SHOULD be done Tim Burton. That aside, Alice in Wonderland is probably one of Disney's most creative animated films to date just due to how crazy they could go with tis story seeing how nothing makes sense in this nonsensical animated world of Wonderland. Alice is probably one of my favorite animated film leads and the side characters are some of Disney's best, mainly the Mad Hatter and March Hare even though they aren't even in the film for fifteen minutes. My favorite character however is the Cheshire Cat, not just for how Sterling Holloway portrays him, but also how you never know what side he is on, if he's a good guy or a bad guy, and I really enjoy characters that are done like that. The music is also very good for the film, my favorite being the story of the carpenter and walrus just for how strange it is.
Michael Edwards
Super Reviewer
The marvelous surrealistic design with beautiful vibrant colors and curious geometric shapes that even seems to borrow from German Expressionism are sadly not enough to compensate for the film's excess of songs and glaring lack of focus, given its frustratingly episodic structure.
Carlos Magalhães
Super Reviewer
Though ultimately not the most memorable Disney experience, Alice in Wonderland is a charming, visually stunning film that--while dated--is nonetheless enjoyable.
Matthew Samuel Mirliani
Super Reviewer
Alice in Wonderland Quotes
| | |
| --- | --- |
| Cheshire Cat: | Can you stand on your head? |
| | |
| --- | --- |
| Doorknob: | Read the directions and directly you will be directed in the right direction. |
| | |
| --- | --- |
| Alice: | Curiouser and curiouser |
| Alice: | Curiouser and curiouser! |
| | |
| --- | --- |
| Mad Hatter: | "A Very Merry Un-Birthday to you! |
| Mad Hatter: | A very merry Un-Birthday to you! |