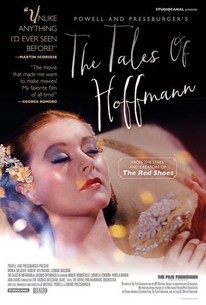 The Tales of Hoffmann
1951, Fantasy/Musical, 2h 18m
30 Reviews
250+ Ratings
What to know
critics consensus
Exemplifying the Archers' flair for spectacle and narrative tempo, The Tales of Hoffman is a surreal musical of operatic proportions. Read critic reviews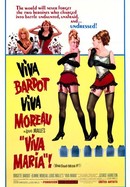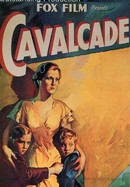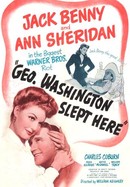 George Washington Slept Here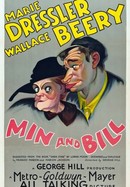 Rate And Review
The Tales of Hoffmann Photos
Movie Info
In this film adaptation of the Offenbach opera, a young poet named Hoffman (Robert Rounseville) broods over his failed romances. First, his affair with the beautiful Olympia (Moira Shearer) is shattered when he realizes that she is really a mechanical woman designed by a scientist. Next, he believes that a striking prostitute loves him, only to find out she was hired to fake her affections by the dastardly Dapertutto (Robert Helpmann). Lastly, a magic spell claims the life of his final lover.
Audience Reviews for The Tales of Hoffmann
The famed Powell/Pressburger team bring us an opulent staging of Offenbach's "The Tales of Hoffman," an opera divided into three parts in which the title character tells a tavern about his doomed past loves. The first and longest section, involving Moira Shearer as a life-size doll, is easily the most entertaining and includes cute, no-tech illusions of her body being "disassembled." Otherwise, the stories aren't easy to follow except in the broadest way (a prostitute and magician plot to steal Hoffman's reflection, and an opera singer sings herself to death), because the shrill lyrics are too difficult to discern. Furthermore, only two of the actors do their own singing, and there is an palpable awkwardness with the syncing -- especially when ballet dancers are trying to mouth words as they dance. The best features are Shearer's willowy dancing and Robert Helpmann's mugging as the recurring villain (he'd be perfectly at home in a Fritz Lang silent). And this is Powell and Pressburger, so of course the colors and sets are like magical paintings come to life.

During the first intermission of a ballet in Nurnberg, students and other members of the audience retire across the street to a tavern for a quick beer before Act 2. While there, Hoffman(Robert Rounseville) starts to tell his stories of woe. So compelling are they, that his audience decides to skip the rest of the ballet, with the pipes being broken out, to hear what else he has to say; starting in Paris before the Eiffel Tower was built where he encountered Olympia(Moira Shearer). "The Tales of Hoffman" is a highly entertaining mix of ballet and opera, where Moira Shearer dances her legs off while everybody else sings their hearts out. Visually, Michael Powell and Emeric Pressburger pull out all the stops with the aid of cinematographer Christopher Challis who makes the perfect use of Techicolor for these dreamlike fantasia, each set in a different locale. As such as the movie is about the different expressions of art(Hoffman is a famed poet by the end), these settings also resemble paintings and are works of art in themselves. It is no wonder then that Hoffman gets so lost in them, missing what is right in front of him all the time, the constant companionship of his faithful friend Nicklaus(played by Pamela Brown, thus even adding a bit of genderblending into the equation) through thick and thin.
See Details