Next of Kin
(1984)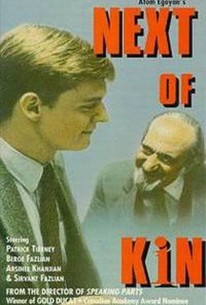 AUDIENCE SCORE
Critic Consensus: No consensus yet.
Movie Info
Atom Egoyan's first feature finds him using the formal and thematic elements he has combined throughout his career: allegory, family bonds, the corruption of desire, and a perverse view of technology. In the midst of a familial trauma, a young man discovers a videotape of a family who gave up a child for adoption. Fleeing his past, he attempts to become that lost son. Next of Kin is a hint of disturbing films to come. ~ Brian Whitener, Rovi
Critic Reviews for Next of Kin
Audience Reviews for Next of Kin
½
[font=Century Gothic]In "Next of Kin", Peter(Patrick Tierney) is a shy, 23-year old man living with his upper-middle class parents. His only activity is pretending and his listless lifestyle has so worried his parents, that they have gone to family counseling which is videotaped. When he returns to watch the tape of the session, Peter also watches the tape of an immigrant family in turmoil.(A son was put up for adoption and the father disapproves strongly of his daughter's lifestyle.) At the next counseling session, Peter announces his attention to take a vacation which everybody agrees to but his true aim is to visit the immigrant family and pretend to be their long lost son, Petros. [/font] [font=Century Gothic][/font] [font=Century Gothic]"Next of Kin" is an absorbing and intriguing movie with a surprising ending about family and what it means to be part of one. But the movie gets off to a very awkward start in trying to explain its premise and it is a little hard to understand the dubious morality of the central character.[/font]
Next of Kin Quotes
There are no approved quotes yet for this movie.