Come and See (Idi i smotri)
(1985)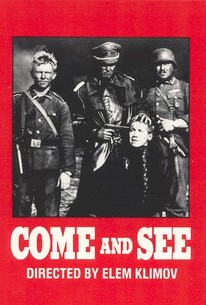 Come and See (Idi i smotri) Photos
Movie Info
As seen through the eyes of teen-aged protagonist Alexei Kravchenko, the landscape of Byelorussia is devastated by the incursion of Nazi troops in 1943. The genocide perpetrated on the citizens of this region is almost secondary to the rape of the region itself. Despite his disillusionment with humanity, Florya (Kravchenko) emerges from his experiences vowing to survive no matter what comes -- and in so doing, personifies a resilience and dignity. Come and See, originally released as Idi i Smorti, was the winner of the Grand Prix at the 1985 Moscow Film Festival.
News & Interviews for Come and See (Idi i smotri)
Critic Reviews for Come and See (Idi i smotri)
Audience Reviews for Come and See (Idi i smotri)
A rare jewel from cinema history, a painful and unforgettable film, a classic by Elem Klimov; Come and See (Idi i Smotri) is a picture that everybody must see.
Lucas Martins
Super Reviewer
½
It's another war film about the victims, but shot with a lot of style, as if it was an operatic nightmare. While the movie starts exploring the character of Florya. the entire second half is nazis killing russians, with a revenge fantasy playing at the end. As a war film it is a crude and direct portrayal of the atrocities of war, but it leaves not much room for anything else, including it's characters.
Tsubaki Sanjuro
Super Reviewer
I don't recall ever seeing a more powerful anti-war film. The transformation of Florya (Aleksei Kravchenko) from an innocent boy into a battle-hardened soldier is something that must be witnessed in order to be fully appreciated.
Randy Tippy
Super Reviewer
Come and See (Idi i smotri) Quotes
There are no approved quotes yet for this movie.