Poison Ivy
(1992)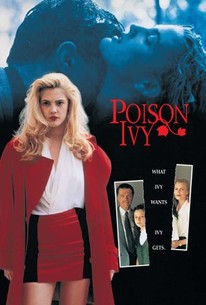 Movie Info
The always challenging transition from adorable child performer to sexy adult star was achieved flamboyantly by actress Drew Barrymore with this erotic drama that unfolds like a paranoia-drenched Lolita (1962). Sylvie Cooper (Sara Gilbert) is a misanthropic student at a private high school for children of the privileged. While calling in a phony bomb threat to the TV station where her father, Darryl (Tom Skerritt) is a producer, Sylvia attracts the attention of Ivy (Drew Barrymore). Ivy is an orphan from a poor family, attending the school on a scholarship. She and Sylvia quickly become best friends, and Ivy eventually moves out of her aunt's home and into the Cooper household. Ivy covets the Coopers' lavish lifestyle and luxuries, so she begins plotting to kill Sylvie's ailing mother Georgie (Cheryl Ladd), then seduce the alcoholic Darryl and frame Sylvie for the crime, thus taking over the Cooper house. Director Katt Shea Ruben and her co-writer husband Andy Ruben were veterans of the Roger Corman school of filmmaking. The success of Poison Ivy (1992) on video and cable television inspired a pair of sequels, Poison Ivy 2: Lily (1996) and Poison Ivy: The New Seduction (1997).
People Who Like this movie also like
Critic Reviews for Poison Ivy
Audience Reviews for Poison Ivy
This is like a modern version of Lolita. Barrymore does a fantastic job of being the erotic femme fatale. I really loved this movie, it's thrilling and romantic at the same time. I highly recommend it.
Tim Salmons
Super Reviewer
Poison Ivy is a good teenage drama movie, starring Sara Gilbert and Drew Barrymore, who both give great performances here. Barrymore plays Ivy a young and wild teen, who lives with her aunt. When she ends up moving in with her friend, Sylvie played by Gilbert, Ivy slowly and seductively works her way into the lives of her 'new' family. The movie has some weird moments, but most of the time it's good and keeps you interested in the plot and the characters.
Cassandra Maples
Super Reviewer
Poison Ivy Quotes
There are no approved quotes yet for this movie.