Bullet in the Head (Die xue jie tou)
(1990)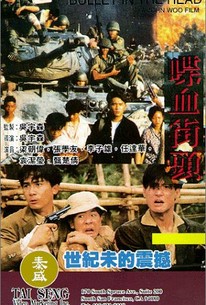 Bullet in the Head (Die xue jie tou) Photos
Movie Info
Set in 1967, when clashes between leftists protesting British rule and the police were tearing the colony apart, the film opens with Frank (Jacky Cheung Hok-yau) offering the deed to his parents' home as collateral to a loan shark, so that he can pay for his buddy Ben's (Tony Leung Chiu-wai) wedding party. Unfortunately, Frank is ambushed by a thug named Ringo and his associates who make off with the money. Ben and Frank vow revenge and end up accidentally killing the guy. Wanted by both the law and the triads, Frank, Ben, and their pal Paul (Waise Lee Chi-hung) head for Vietnam with a case of fake Rolexes and dreams of making a quick buck. Immediately upon arrival, those dreams are dashed -- their wares are blown up in a tin-can military coup, they are almost shot by the South Vietnamese army, and their passports are seized. Though tempted to throw in the towel, Frank and Ben are convinced by Paul into joining forces with shady hit man named Luke (Simon Yam Tat-wah) to shake down club owner Leong (Lam Chung). The scheme goes horribly wrong, ending with the death of a beautiful drug-addled singer named Sally (Yolinda Yan Chi-sin) and our three heroes accused of being CIA agents in a North Vietnamese POW camp. Later, though, Frank saves Paul's live and get injured in the process, Paul can only think of financial gain and saving his own neck. He shoots Frank in the head when he fears his friend's cries of agony will tip off the Vietcong. Unfortunately, the bullet doesn't kill Frank, leaving him brain damaged, drug-addled, and in chronic pain. After Ben learns of Frank's condition, he confronts Paul who has since returned to Hong Kong to become a prominent businessman. ~ Jonathan Crow, Rovi
Critic Reviews for Bullet in the Head (Die xue jie tou)
All Critics (6) | Fresh (6) | Rotten (0) | DVD (3)
Eschewing the glamorous contract killers of Woo's previous films, Bullet has its carefree and idealistic characters repeatedly in untenable situations, bound to corrupt them. Shooting their way out is a temporary solution which only digs them in deeper.
Audience Reviews for Bullet in the Head (Die xue jie tou)
½
A year after John Woo made his action classic, The Killer, he brought us Bullet In the Head. A film that he personally funded himself, but went largely unnoticed at the time of it release due to the release of the very popular and lackluster sequel, A Better Tomorrow 3. Bullet In the Head is not only one of John Woo best movie, but it's the most emotional work he ever done. Bullet In the Head follows three close friends escape from Hong Kong to war-time Saigon to start a criminal's life. They all go through a harrowing experience which totally shatters their lives and their friendship forever. The plot is one of the finest John Woo has ever written with a deep examination of true friendship. The plot itself is fast pace to the point where it hurts the film. It moves to frequently that it doesn't allow you to absorb what you just witness. The characters themselves are written with depth and seeing their journey is a thrill ride all on its own. We see them fight gangs together, escape to a war torn Vietnam, and seeing it all crumble in magnificent fashion. The film itself does historical and political context with some references to the Vietnam Saigon Execution and the Vietnam War itself. As with almost every John Woo film directed by John Woo, the action is over the top with character magically missing a hail storm of bullets without a scratch on them. The action might be over the top, but it works in it favor as these character do have go through their rough journey together. The acting here is good, but nothing noteworthy. The cast do their own moments to shine, but once again aren't anything special. It's filmed superbly with an amazing score that helps it add emotional weight of the drama. Bullet In the Head might not be as well know as some of John Woo other films, but it retains the high standards as some of his best work. If you're looking for a film that test the value of friendship Bullet In the Head is as emotional as it is action packed.
Caesar Mendez
Super Reviewer
½
The first five minutes of John Woo's masterpiece on the nature of brotherhood has more cinematic potency than many entire movies. This is all a perfect setup for the following sucker punch of the most brutally and entertainingly violent and horrifying series of events ever put on film. People are shot in their head, people explode, demonstrators are shot, exploding Cuban cigars, etc. The thing is that this mix of melodrama, action, and violence comes together into a cohesive whole and works amazingly well. And this has been compared, not inaptly, to The Deer Hunter, particularly for its harrowing scenes in a Vietcong internment camp. Jacky Cheung make a bold, brave performance as the 'title character,' Tony Leung's ability to communicate tragedy, and Waise Lee's wonderful way with the line, 'All I want is this box of gold. Is that so much to ask?'
Dean McKenna
Super Reviewer
Martin Sahlin
Super Reviewer
Bullet in the Head (Die xue jie tou) Quotes
There are no approved quotes yet for this movie.