The Browning Version
(1994)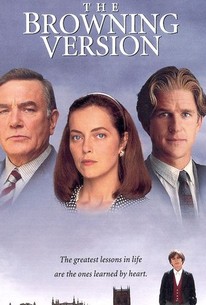 The Browning Version Videos
The Browning Version Photos
Movie Info
This British drama represents the second screen version of Terence Ratigan's play about a school teacher with a weak heart facing forced retirement. The first appeared 40 years ago. Andrew Crocker-Harris has been a rigorous teacher of Latin at a public school for the past 20 years. Because his heart condition warrants it looks as if he will be teaching English as a second language to foreigners. Andrew projects sternness, and the classical British stiff-upper lip. At school he is impeccably organized and disciplined, but at home, a different man appears. He is unhappily married to Laura. She is having an affair with Frank Hunter, the American chemistry teacher in the school. Hunter is uncomfortable with the relationship because he feels he is betraying his much admired colleague, Andrew. One student, Taplow, sees the sensitivity beneath Andrew's stern demeanor. Though he struggles, Taplow understands the beauty of the language Andrew tries to convey.
Rating:
R
Genre:
,
Directed By:
Written By:
In Theaters:
On DVD:
Runtime:
Studio:
Paramount Pictures
Critic Reviews for The Browning Version
Audience Reviews for The Browning Version
Anguish,perfectly filmed and supremely portrayed by Albert Finney.
Audrey Lush
Super Reviewer
½
Probably not as good as the original, but Finney is terrific as a fussy teacher who picks up a few valuable lessons of his own.
Lee Mayo
This was a film that really spoke to me where I was at the time. I was teaching Sunday school to a class of 7th graders. It was always a struggle to keep them interested in the material, to keep their eyes and ears open, for I believed that what I was teaching was the most important subject imaginable. I was teaching about Catholic faith, and I knew that such a miserable job had been done when I was in Catholic school at their age that I almost never considered it again. So to say that I felt tremendous pressure would be an understatement. The beginning of the film follows a newly appointed language professor on his way to the posh British prep school at which he'll be teaching. After being introduced to some other professors, he visits what will be his class. It's the last day of the school year, and it's a typical group of boys, goofing around whenever they think no one will stop them (been there, done that). It's quite obvious that the new professor has no experience keeping discipline over a class, and the boys take advantage until the stodgy and severe Mr. Crocker-Harris (Albert Finney) enters. A mere look from him is enough to get all the boys back in their seats and in proper posture. It becomes clear that Crocker-Harris deals with his students with a ruthless sarcasm and blatant disregard for the boys' understandable emotions. A boy who had laughed politely at Crocker-Harris' joke in Latin, which he could scarcely have understood, is called up in front of the class to be embarrassed publicly. As a "treat", the boys read from Sophocles in the original Greek, but Crocker-Harris takes over when it becomes clear that it's all Greek to them. His passion for the material shines through, for a few moments, before the class period, and the school year, end. The rest of the film centers on Crocker-Harris, who comes to reflect on his ambitions when he began teaching, many years ago, and the sporadic and disappointing results of his career. He seems resigned to the fact that no matter what you do as a teacher, 99% of the time you will fail. At home, his marriage is a quiet failure, which again had started out with such potential. His wife (Greta Scachi), as she visits an American chemistry professor (Matthew Modine) for tea and sex, looks back at the man she married, young and idealistic, and curses the man he has become. One student, Taplo, has grown to like Crocker-Harris, somehow. This is despite the fact that the professor subjects Taplo to extra time studying with him, and stands in the way of Taplo's fervent desire to be transferred to the Science department. As Crocker-Harris will be retiring after this year, he decides to buy his professor a gift: the Browning version of the works of Sophocles. When he presents it to him, and the professor reads the inscription in ancient Greek, which translates to: "God from above looks kindly on a gentle master," he breaks down in tears, for he has been anything but. Now, convinced of the utter failure of his career and marriage, he is presented with a success, which paradoxically makes him feel even worse. He must struggle with his inability, not only to respect, but to be respected. For anyone who has been a teacher or student, this may well bring back memories.
Chris Potter
The Browning Version Quotes
There are no approved quotes yet for this movie.
Discussion Forum
Discuss The Browning Version on our Movie forum!