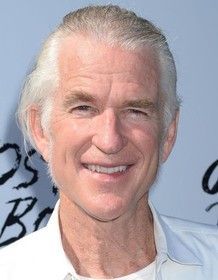 Matthew Modine
Highest Rated: 100% And the Band Played On (1993)
Lowest Rated: Not Available
Birthday: Mar 22, 1959
Birthplace: Loma Linda, California, USA
Matthew Modine worked with some of the most respected directors in the film industry, yet following a string of critically acclaimed dramatic performances in the 1980s, the actor was adrift temporarily before discovering a niche of steady, challenging work on television. By the time he was 30 years old, the lanky blond actor had established a talent for portraying all-American types impaired by moral and emotional conundrums in Robert Altman's "Streamers" (1983), Alan Parker's "Birdy" (1984) and Stanley Kubrick's "Full Metal Jacket" (1987). He also showcased a charming, fresh-scrubbed guilelessness in lighter fare like Jonathan Demme's "Married to the Mob" (1988), but when Hollywood was unable to find more adult roles that suited his image, Modine segued into small screen work. Television provided a steady outlet, with Modine becoming a multiple Emmy and Golden Globe nominee for television movies including "And the Band Played On" (HBO, 1993). In the new millennium, Modine further regained his artist's reputation with stage appearances in a number of works by Henry Miller and a recurring role on the acclaimed series "Weeds" (Showtime, 2005-12), all of which added up to a reminder that the remarkably talented and appealing Modine had spent a career sadly underutilized by Hollywood.
Photos
Matthew Modine
MARY, Matthew Modine, 2005
THE BROWNING VERSION, from left: Greta Scacchi, Matthew Modine, Albert Finney, 1994, © Paramount
AND THE BAND PLAYED ON, (from left) Matthew Modine, Saul Rubinek, Patrick Gorman, 1993. photo: ©HBO
GROSS ANATOMY, Matthew Modine, 1989, (c)Buena Vista Pictures
BIRDY, Nicolas Cage, Matthew Modine, 1984
FULL METAL JACKET, Matthew Modine, 1987
VISION QUEST, from left: Linda Fiorentino, Matthew Modine, 1985. ©Warner Brothers
VISION QUEST, Matthew Modine, 1985. ©Warner Bros.
FULL METAL JACKET, Matthew Modine, Dorian Harewood, Adam Baldwin, 1987
THE DARK KNIGHT RISES, Matthew Modine, 2012. ph: Ron Phillips/©Warner Bros.
FULL METAL JACKET, Vincent D'Ofofrio, Matthew Modine, Lee Ermey, 1987, drill sergeant screaming at the recruits
STREAMERS, Matthew Modine, 1983, (c)United Artists
VISION QUEST, top to bottom: Frank Jasper, Matthew Modine, 1985. ©Warner Brothers
THE BROWNING VERSION, from left: Matthew Modine, Greta Scacchi, 1994, © Paramount
THE REAL BLONDE, from left: Christopher Lloyd, Matthew Modine, 1997, © Paramount
MARRIED TO THE MOB, Michelle Pfeiffer, Matthew Modine, Dean Stockwell, 1988, (c) Orion
VISION QUEST, Matthew Modine, 1985. ©Warner Brothers
PRIVATE SCHOOL, Betsy Russell, Matthew Modine, 1983, (c)Universal
THE BLACKOUT, Matthew Modine, Beatrice Dalle, 1997. ©Trimark Pictures
Filmography
Movies
Credit

28%

66%

Retribution
Anders Muller (Character)
$6.9M
2023

100%

77%

Downwind
Executive Producer
-
2023

93%

91%

Oppenheimer
Vannevar Bush (Character)
$325.4M
2023

No Score Yet

No Score Yet

Accidental Truth
Narrator
-
2023

No Score Yet

No Score Yet

The Martini Shot
Unknown (Character)
-
2023

89%

100%

My Love Affair with Marriage
Bo (Voice)
-
2022

88%

73%

Operation Varsity Blues: The College Admissions Scandal
Unknown (Character)
-
2021

11%

45%

Breaking News in Yuba County
Karl Buttons (Character)
-
2021

65%

61%

Wrong Turn
Scott (Character)
$1.3M
2021

83%

64%

Foster Boy
Michael Trainer (Character)
$19.0K
2019

50%

84%

Miss Virginia
Congressman Cliff Williams (Character)
-
2019

No Score Yet

No Score Yet

Chance
Mike (Character)
-
2019

8%

24%

Backtrace
Macdonald (Character)
-
2018

0%

30%

Speed Kills
George Bush (Character)
-
2018

33%

72%

An Actor Prepares
Charlie (Character)
-
2018

62%

65%

Sicario: Day of the Soldado
James Riley (Character)
$50.1M
2018

95%

84%

Filmworker
Self
$102.6K
2017

No Score Yet

32%

The Heyday of the Insensitive Bastards
Theodore Foster (Character)
-
2017

53%

35%

47 Meters Down
Taylor (Character)
$44.3M
2017

57%

48%

The Hippopotamus
Michael Logan (Character)
-
2017

No Score Yet

No Score Yet

Super Sex
Director,
Screenwriter
-
2016

No Score Yet

No Score Yet

Revengeance
Executive Producer
-
2016

91%

58%

The Confirmation
Kyle (Character)
-
2016

No Score Yet

No Score Yet

Alex & Co: The Movie
Bob Riley (Character)
-
2016

No Score Yet

No Score Yet

Merry Xmas
Abe (Character),
Screenwriter,
Producer
-
2015

58%

76%

The Brainwashing of My Dad
Narrator,
Producer
-
2015

No Score Yet

65%

Altar
Alec Hamilton (Character)
-
2014

93%

80%

Wrinkles
Unknown (Character)
-
2014

84%

68%

Cheatin'
Executive Producer
-
2013

27%

40%

Jobs
John Sculley (Character)
$16.1M
2013

38%

51%

Family Weekend
Duncan Dungy (Character)
-
2012

33%

53%

Girl in Progress
De. Hartford (Character)
$2.6M
2012

No Score Yet

No Score Yet

Jesus Was a Commie
John Doe (Character),
Director,
Screenwriter
-
2011

No Score Yet

No Score Yet

Wrinkles
Juan (Voice)
-
2011

83%

72%

A Cat in Paris
Lucas (Voice)
-
2010

No Score Yet

27%

The Trial
Mac (Character)
$19.2K
2010

No Score Yet

53%

Little Fish, Strange Pond
Mr. Jack (Character)
-
2009

No Score Yet

No Score Yet

Lost in Love
Eric (Character)
-
2009

No Score Yet

No Score Yet

Mia and the Migoo
Mr. Houston/Godfrey (Voice)
-
2008

4%

19%

Hemingway's Garden of Eden
David's Father (Character)
$22.1K
2008

No Score Yet

38%

Sex & Lies in Sin City: The Ted Binion Scandal
Ted Binion (Character)
-
2008

No Score Yet

28%

The Neighbor
Jeff (Character)
-
2007

No Score Yet

No Score Yet

Have Dreams, Will Travel
Ben's Father (Character)
-
2007

70%

27%

Go Go Tales
Johnie Ruby (Character)
-
2007

18%

23%

Kettle of Fish
Mel (Character)
-
2006

9%

30%

Opa!
Eric (Character)
-
2005

59%

43%

Mary
Tony Childress/Jesus (Character)
-
2005

52%

58%

Transporter 2
Jefferson Billings (Character)
$43.1M
2005

No Score Yet

No Score Yet

The Winning Season
Honus Wagner (Character)
-
2004

No Score Yet

48%

Funky Monkey
Alec McCall (Character)
-
2004

44%

20%

Hollywood North
Bobby Myers (Character)
-
2003

36%

26%

Le Divorce
Tellman (Character)
$9.1M
2003

No Score Yet

73%

Hitler: The Rise of Evil
Unknown (Character)
-
2003

No Score Yet

50%

Redeemer
Paul Freeman (Character)
-
2002

0%

58%

Nobody's Baby
Sonny (Character)
-
2001

No Score Yet

39%

In the Shadows
Eric (Character)
-
2001

No Score Yet

6%

The Shipment
Mitch Garrett (Character)
-
2001

No Score Yet

65%

Flowers for Algernon
Charlie Gordon (Character)
-
2000

No Score Yet

No Score Yet

Very Mean Men
Bartender (Character)
-
2000

No Score Yet

0%

The American
Christopher Newman (Character)
-
1999

52%

73%

Any Given Sunday
Dr. Allie Powers (Character)
$75.5M
1999

No Score Yet

20%

If... Dog... Rabbit
Johnnie Cooper (Character),
Director,
Writer
-
1998

0%

53%

The Blackout
Matty (Character)
-
1997

No Score Yet

53%

The Maker
Walter Schmeiss (Character)
-
1997

34%

37%

The Real Blonde
Joe (Character)
$355.5K
1997

No Score Yet

88%

What the Deaf Man Heard
Sammy Ayers (Character)
-
1997

39%

40%

Cutthroat Island
Shaw (Character)
$8.8M
1995

31%

68%

Fluke
Thomas P. Johnson/Voice of Fluke (Character)
$3.3M
1995

23%

49%

Bye Bye, Love
Dave (Character)
$11.4M
1995

No Score Yet

75%

Jacob
Jacob (Character)
-
1994

78%

79%

The Browning Version
Frank Hunter (Character)
$172.1K
1994

33%

41%

Equinox
Henry Petosa / Freddy Ace (Character)
-
1993

100%

88%

And the Band Played On
Dr. Don Francis (Character)
-
1993

95%

88%

Short Cuts
Dr. Ralph Wyman (Character)
$6.1M
1993

No Score Yet

No Score Yet

Luck, Trust and Ketchup: Robert Altman in Carver Country
Unknown (Character)
-
1993

46%

81%

Wind
Will Parker (Character)
$4.9M
1992

52%

46%

Pacific Heights
Drake Goodman (Character)
$27.9M
1990

68%

79%

Memphis Belle
Capt. Dearborn (Character)
$25.5M
1990

36%

53%

Gross Anatomy
Joe Slovak (Character)
$11.3M
1989

88%

49%

Married to the Mob
Mike Downey (Character)
$19.7M
1988

No Score Yet

No Score Yet

The Gamble
Francesco Sacredo (Character)
-
1988

71%

77%

Orphans
Treat (Character)
$239.7K
1987

90%

94%

Full Metal Jacket
Private Joker (Private/Sergeant J.T. Davis)/Narrator (Character)
$42.9M
1987

60%

78%

Vision Quest
Louden Swain (Character)
-
1985

46%

44%

Mrs. Soffel
Jack Biddle (Character)
-
1984

80%

84%

Birdy
Birdy (Character)
-
1984

55%

44%

Streamers
Billy (Character)
-
1983

No Score Yet

38%

Private School
Jim Green (Character)
-
1983
TV