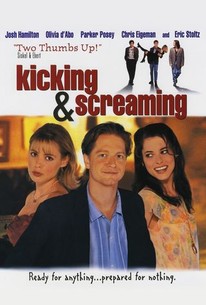 Kicking and Screaming
1995, Comedy/Drama, 1h 36m
37 Reviews
5,000+ Ratings
What to know
critics consensus
Witty and watchable yet undeniably flawed, Kicking and Screaming marks writer-director Noah Baumbach as an emerging talent with intriguing potential. Read critic reviews
Where to watch
Rent/buy
Subscription
Rent/buy
Rent/buy
Rate And Review
Kicking and Screaming Photos
Movie Info
Preppie graduates (Josh Hamilton, Olivia d'Abo, Carlos Jacott) face their first year out of college and reminisce about student life.
News & Interviews for Kicking and Screaming
Audience Reviews for Kicking and Screaming
A very opinionated by empty and aimless bore concerning recent college graduates struggling to find their place in the world, and how their lives change over the course of a few months. Noah Baumbach, one of the kings of awkward/anti-social world, has put together a below average "comedy" that is not very funny, with characters that are not very likable, and with a plot that has no problem being about nothing. Unlike "The Squid and the Whale" which had a pretty good sense of humor despite taking itself a little too seriously, the biggest thing with this film is that it is just flat-out not funny or meaningful. I could not care less about the selfish, quirky for quirks sake characters that spouted dialogue that seemed from another planet, and as a result this movie lost me quickly. It is not terrible, it just is not very good.

In a film that revolves around a group of friends, all recent college graduates, "Kicking and Screaming" starts off in a way that reflects the uncertainty the characters face about their futures - confusing and unknowing in which direction it was heading in. It eventually falls into place with a nice pacing and snarky, quotable dialogue. Not much happens other than slacking, whining, and overanalyzing from the group, but it is the hilarious and insightful conversations that make it a decent first feature from Noah Baumbach.

The very underrated hilarious debut from Noah Baumkbach has perhaps the most qoutable lines of any movie I've seen and features great performances from Christopher Eigeman, Carlos Jacott and a supporting role from Elliot Gould.

For what's it worth, I truly believe in Gen X comedy-dramas. Even if you didn't fully enjoy this period in history, the quirky characters and realistic underlying problems of these films' central protagonists are shockingly familiar. Whether Eliot's "The Love Song of J. Alfred Prufrock" or James Joyce's "The Dead" every art form has beleaguered to show us that our futures, more likely our destinies, are under our own control and not that of extenuating circumstances. We all fear failure in the future, but Baumbach also delves into the psyches of several different archetypes, including: the infinite student, wanting to learn but lacking direction, the genius who works blue collar because he fears success, and the slacker who still slacks though staying in school so he doesn't have to face life. This film is one big denial trip down a memory lane no one wants to know or live through. Each of the main character's relationships are these hypereducated rants to one another over who can be more of a hipster chic intellectual, who can obsess over the idiosyncrasies and affectations of an entire generation of hypochondriacs and windbags, quite frankly. The film makes fun of itself often, and points out the flaws of the college elite, when the entire culmination of our hard earned education is wasted on people who lack direction, who serve themselves with things, and people, and ideas they don't need, lying about without hope or purpose. Some may not revel in the true entertainment of eccentricities, but the droll humor and actual message are worth the short watch.
See Details