The Story of G.I. Joe
(1945)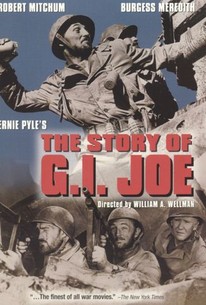 Movie Info
The Story of G.I. Joe was based on the columns of Scripps-Howard war correspondent Ernie Pyle (Burgess Meredith). Though already past 40, Pyle insists upon marching along with an Army infantry unit during the Italian campaign. He befriends several of the soldiers, including commanding officer Lt. Walker (Robert Mitchum in his breakthrough role), family man Sgt. Warnicki (Freddie Steele) and would-be romeo Private Dondaro (Wally Cassell). The "plot" of the film is moved forward by the progression of the war itself; basically, however, G.I. Joe is an anecdotal collection of comic, dramatic and tragic vignettes. Some of the more memorable moments include: Sgt. Warnicki's ongoing efforts to listen to a recording of his infant son's voice; Walker's casual reactions to his many field promotions; and a wedding ceremony which is "punctuated" by an air raid. Many infantry veterans consider The Story of GI Joe to be the single most realistic Hollywood war film of the 1940s, eschewing big stars, phony heroics and overblown battle sequences in favor of the everyday trials and tribulations of the humble foot soldier. Ironically, Pyle, who acted as technical adviser when he wasn't busy on the front, was killed by an enemy sniper shortly before the release of this film. ~ Hal Erickson, Rovi
Rating:
NR
Genre:
, ,
Directed By:
Written By:
In Theaters:
On DVD:
Runtime:
Studio:
United Artists
Critic Reviews for The Story of G.I. Joe
Audience Reviews for The Story of G.I. Joe
This movie tries so very hard to be poignant that I almost feel hard-hearted/bad considering that I found the whole thing so rigorously boring. I understand that the life of a G.I. was brutal, short, and involved a lot of sitting around and waiting in a foxhole. It makes for a tough situation if you want to make a realistic film, and I believe this film made a valiant effort. In fact, I think it's probably better than I think it is considering other people's reviews of it. I just personally found the film to have too many characters to keep track of, not enough interesting plot devices, and a bland style. Wellman is a mixed bag of a director for me, but I feel he just about remade this film in much better fashion four years later with "Battleground." It's got the same style with much better characters, and a more definite plot. The best element of this film is Mitchum, but his talents can be found in much more digestible films after this one.
Garrett Cash
½
The Story of G.I. Joe (1945) -- [7.0] -- This isn't the romanticized WWII of modern cinema, it's probably closer to the real thing. "The Story of G.I. Joe" is based on print journalist Ernie Pyle's interviews with soldiers in the field. Pyle was in the foxholes with them, and he was in it for the long haul. His newspaper column became the public's window into life on the battlefield. William Wellman's film adaptation indicates that, for the soldiers, the war wasn't about winning. It was about surviving, day by day. I love William Wellman for keeping his war movies so grounded. Burgess Meredith plays Pyle, but it's really an ensemble piece, including Robert Mitchum in a nicely understated performance. Most of the extras and some of the cast were actual soldiers, many of whom died in battle shortly after filming. Pyle also never saw the film completed. He was interviewing soldiers in Japan when he was killed by sniper machine gun fire, three months before the movie was released. In light of these facts, the movie's otherwise optimistic ending becomes unintentionally bittersweet.
Scott Schirmer
The Story of G.I. Joe Quotes
There are no approved quotes yet for this movie.