Beowulf
(1999)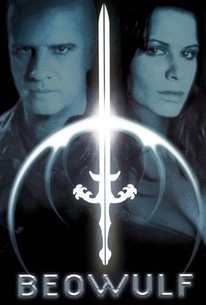 Movie Info
The epic eighth-century poem of Saxon lore gets moved into the Scandinavian future in this science fiction adaptation of Beowulf. Here, Beowulf (Christopher Lambert) rescues a damsel in distress, Pendra (Patricia Velasquez), who is being menaced by two men with large swords and bad tempers. Beowulf hears tell of Grendel, a force of evil that feasts on the flesh of warriors of Hrothgar (Oliver Cotton), who are holding their ground in the Outpost. Before long, Beowulf finds himself doing battle with Hrothgar's daughter Kyra (Rhona Mitra), Hrothgar's master of arms, Roland (Goetz Otto) and even Grendel's mother (Layla Roberts). Patricia Velasquez appeared in Beowulf shortly before she filmed her showy turn in The Mummy, while Layla Roberts's resume includes an October 1997 appearance as Playboy's Playmate of the Month. Beowulf was completed and released in Europe before another version of the same story hit the screens, Disney's The 13th Warrior (aka Eaters Of The Dead).
Critic Reviews for Beowulf
All Critics (5) | Fresh (0) | Rotten (5) | DVD (1)
[Beowful is] a bizarre hybrid, as strange (if not quite as ghastly) as the half-human, half-demon Grendel that haunts the first act.
In an effort to give you, dear reader, insight into the source material from which the screenwriters reverently drew, we offer the following translation of key passages...
Audience Reviews for Beowulf
fun but very forgettable movie. lambert was never one for choosing great roles and sadly this is another case. this came off the heels of mortal kombat and alot of the action from that film carried on to this. better then expected but its not exactly a cult favorite
Brendan Nicholls
Super Reviewer
½
This was a fun cheesy . . steampunk kinda i dont know :) An interesting twist on the Beowulf tale with ill do anything for a paycheck Christopher Lambert. he even got his patented chuckle in . . not bad if your not expecting much.
John Manard
Super Reviewer
A retelling of the medieval epic poem, 'Beowulf' feels more like a film franchise opening (such as 'Mortal Kombat') than a 'solo' film fantasy. Lambert (sporting a white-haired crew-cut), is the product of a union between a Dark God (possible alien?) and a human mother. Traveling a barbaric future Earth to fight an evil force he himself may be kin to, the half-human journeys to a besieged fortress where the residents are being decimated by a 'Predator' rip-off called Grendel. Through a series of fast-cut and bloody exchanges, the major characters are weeded out, after revealing their own secrets, until the greatest secret of all is revealed by an evil alien sexpot (the eminently watchable Layla Roberts). The film features the kind of acrobatic martial arts choreographed to a rock music soundtrack that popularized 'Mortal Kombat' (although it was hard for some to accept the middle-aged Lambert backflipping his way through battles!), a quick glimpse at a pre-Mummy Patricia Velazquez, the voluptuous Rhona Mitra as Beowulf's eventual lover, Kyra, and a bit of comic relief by Brent Jefferson Lowe, as the Weaponmaster's son. While the story never generates a lot of electricity, Lambert is an old hand at this genre, and his confidence, occasional quip, and distinctive laugh have carried him through films far inferior to this! What can I say but its a good rental for a rainy day. Check it out..
David Ladd
Super Reviewer