10 Questions for the Dalai Lama
(2007)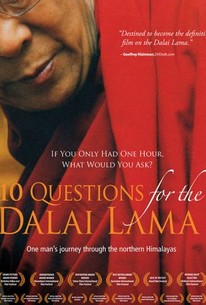 Movie Info
The deeply philosophical and spiritual documentary 10 Questions for the Dalai Lama finds the questing filmmaker and intellectual Rick Ray visiting with Tenzin Gyatso, the 14th Dalai Lama -- widely regarded as one of the wisest men in the world -- and asking His Holiness such questions as: "Why are the poor traditionally so much happier than the wealthy?"; "Is it necessary for a society to abandon its centuries-old traditions to move into the future?"; and "How does one committed to nonviolence respond when faced with inevitable violence?" In approaching these issues with the Lama, Ray brings to light innumerable observations gleaned from his pilgrimages throughout such countries as Israel, Egypt, Syria, and Lebanon. The program also incorporates historical footage of various cultures, including extensive footage shot covertly in Tibet under the threat of external dangers.
Critic Reviews for 10 Questions for the Dalai Lama
Audience Reviews for 10 Questions for the Dalai Lama
It was nice to learn more about the Dalai Lama. Seeing this helped me understand the political situation with Tibet and why so many respect him regardless of religion.
Thomas Johnston
Super Reviewer
A much more expansive documentary than the title would suggest, this film doesn't quite establish a focus, shifting between a fairly boring and meaningless travel documentary and two interesting, but distinct documentaries about Chinese-Tibetan relations and about the life of the 14th Dalai Lama. Despite its amateurish cinematography, creating the feel of a PBS nature documentary the entire time, the film is still fairly interesting and worth a watch if you have any interest at all in the important global issue of Tibet.
Jay Hutchinson
Super Reviewer
10 Questions for the Dalai Lama Quotes
There are no approved quotes yet for this movie.