The Navigators
(2003)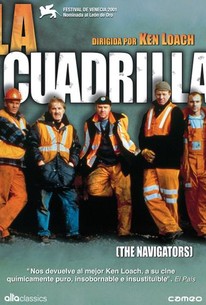 Movie Info
In South Yorkshire, a small group of railway maintenance men discover that because of privatization, their lives will never be the same. When the trusty British Rail sign is replaced by one reading "East Midland Infrastructure," it is clear that there will be the inevitable winners and losers as downsizing and efficiency become the new buzzwords. A cheery camaraderie is soon replaced by uncertainty and turmoil when their depot manager fills them in on the details of the "new" arrangement. Privatization means that the customer now comes first, something that is instilled into the men in new training sessions. But there are inconsistencies and shortsightedness to the new ways. Men used to working together now find themselves belonging to different, competing companies. Some even have to tender for their old jobs. Others decide to take the redundancy packages offered by the firm. As always, corners are cut in the interest of lowering costs, leading to a series of misadventures.
Critic Reviews for The Navigators
Audience Reviews for The Navigators
½
Appropiate portrayal of a british railworker's teams downfall which ultimately alienates their morals as well. A grim and very realistic view on contemporary British working class. Only watch this, if you are interested in sociological topics.
Henrik Schunk
Super Reviewer
[font=Century Gothic]"The Navigators" takes place in 1995 when British Rail is bring privatized, the effects of which are being felt at all levels. Workers for the renamed East Midlands Infrastructure(later renamed Gilchrist Engineering) no longer have the lifetime job security and benefits they once had, and a good number are taking the redundancy offer while the going is good. Meanwhile, for the ones who are staying, there is barely enough work to go around.[/font] [font=Century Gothic][/font] [font=Century Gothic]Directed by Ken Loach, "The Navigators" provides an excellent case study as to why certain government operations should never be privatized and run for a profit.(Do not even think of doing this with Amtrak.) Overall, it is a disaster for everybody all around.[/font] [font=Century Gothic][/font] [font=Century Gothic]The movie is political without being shrill. It captures the feeling of being underemployed perfectly. The film ends strongly enough to have an impact but we never get to know any of the characters well.[/font]
The Navigators Quotes
There are no approved quotes yet for this movie.