Forty Guns
(1957)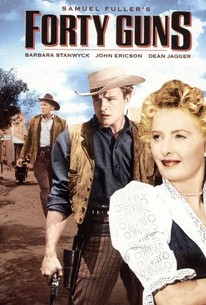 Movie Info
This Sam Fuller western contains elements and production techniques that were to show up in spaghetti westerns of the '60s. Fuller's West was a violent, lawless place, lacking the moral grounding found in typical genre entries. Forty Guns was not well received by American film critics, but in Europe it is a revered work, particularly in France where Fuller has become a cult figure and is considered one of the most important and innovative of post WW II American filmmakers. The story centers on Barbara Stanwyck who plays a powerful female landowner who basically runs an entire Arizona county with an iron fist. Her decrees are enforced by a small army of cowboy henchmen and she meets with little opposition from the willow-spined sheriff and the terrorized residents. Things go just as she wants until a gunslinger-turned-pacifistic-US Marshal and his two brothers ride to town to usurp Stanwyck and her psychotic brother. Once there, one of the brothers falls in love with the lovely town gunsmith. Their wedding day is destroyed when Stanwyck's brother shoots the groom, causing the Marshal to forsake his vow to never again use his gun.
Critic Reviews for Forty Guns
Audience Reviews for Forty Guns
Great western with some really nice unexpected twists. Love that gun barrel shot. Looks like Sam Fuller beat James Bond to the punch.
Ken Stachnik
Super Reviewer
Although the story didn't really appeal to me, I liked how it was filmed. The shots were diverse and creative, it reminded me a little of Hitchcock's way of filming sometimes. I wish Barbara had a bigger part in it, I can't get enough of this woman. She has a very powerful appearance, that never fails to captivate me.
One wacky-doodlely Freudian Western. "She's a high ridin' woman with a whip . . . But if someone could break her and take her whip away, Someone big, someone strong, someone tall, You may find that the woman with a whip ...is only a woman after all." "Get a doctor. She'll live."
Bob Stinson
Super Reviewer
Forty Guns Quotes
There are no approved quotes yet for this movie.