The Warrior
(2005)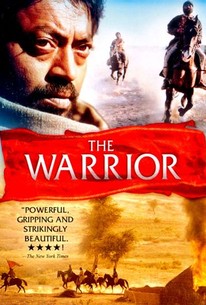 Movie Info
A cold-blooded warrior strives to become a man of peace in this strikingly photographed drama from writer and director Asif Kapadia. Lafcadia (Irfan Khan) is a steel-nerved professional soldier who works as a lawman for the corrupt leader of a local political regime (Anupam Shyam). Lafcadia is valuable to the tyrant for his ability to kill without mercy, but when he's sent with his compatriots to massacre the people of a small village who've been delinquent in paying their taxes, Lafcadia is struck by a vision of a young girl standing on a mountain overlooking the carnage. The vision startles Lafcadia into a change of heart, and he pledges to lay down his weapon and never kill again. However, the tyrant isn't happy with Lafcadia's decision, and retaliates by putting his son (Puru Chibber) under arrest and burning his home to the ground. Undaunted, Lafcadia sets out on a quest in the Himalayas to find the child from his vision, with the tyrant's ruthless enforcers on his trail. In time, Lafcadia is joined in his search by a fugitive (Noor Mani) on the run from a prison work gang. The Warrior was shot in two versions, one in the Hindi language and one in English. ~ Mark Deming, Rovi
Critic Reviews for The Warrior
Audience Reviews for The Warrior
After his family is killed by his former lord, a warrior seeks to find inner peace. Essentially an internal, spiritual journey, The Warrior is highlighted by a good, understated performance by Irfan Khan and some picturesque scenes of India's landscape. But the story is old, and though it doesn't submit to the temptation to become a simple revenge story, what arises in place of cliche is not much better because the film is unable to get us far enough into Lafcadia's psyche to become a compelling internal drama. Overall, while there is a lot to like about this film, I don't think it succeeds because its central conflict is too obscure.
Jim Hunter
Super Reviewer
½
A warrior acting as an enforcer for a local warlord becomes sick of killing and leaves on a pilgrimage to his birthplace, but death seems to follow wherever he goes. I haven't had much exposure to Indian films, Bollywood being the main staple of British TV on the rare occasions it widens its horizons and being a hater of musicals it it has never tempted me. Being a Channel 4 production, it could be argued that I still haven't, and that The Warrior is another example of foreign cultures homogenized to suit the palate of Western audiences. Being part of that western audience, i think it would be a little hypocritical of me to comment. All I can say is I found this film to be a simple but beautiful looking, artful story of atonement and redemption, surely themes that transcend individual cultures. I'm sure there were many cultural references that went over my head, but Irfan Khan has one of those incredibly expressive faces and intense eyes that seem to be able to reflect a lifetime of pain and loss with just a glance. Lacking any other reference point, I'd have to say it shared stylistic elements with the likes of Kurosawa and Leone. Although it is a little lacking in content it is artful in the sense that it's more than the sum of its parts; it's a simple tale but it somehow manages to plug directly into the emotions. Maybe not the kind of film to be enjoyed again and again, it is certainly worth seeing at least once.
Using the rugged desert landscape of Rajasthan like a character in the film and capturing stunningly beautiful images, The Warrior is a very visual spectacle which tells the story in a very focused and confident way. Irfan Khan is outstanding in the lead and I would enjoy seeing him again in Slumdog Millionaire. With a title like this, you'd expect a grisly, gruesome epic. But no, this is a small, intimate drama about trying to change one's life while trying to reject the strong internal drive for vengeance.
El Hombre Invisible
Super Reviewer
The Warrior Quotes
There are no approved quotes yet for this movie.