Abominable
(2006)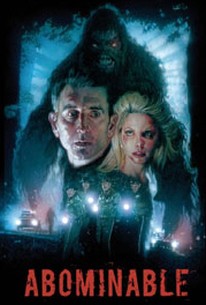 Movie Info
With 42,000 sightings in 68 countries, the elusive woodland creature known as Sasquatch, Yeti, and Bigfoot is one of the most enduring natural mysteries ever known to man. Hunted by humans for hundreds of years, the formerly reclusive man-like beast strikes out against his would-be captors in a mountain-based tale of survival and horror starring Jeffrey Combs, Lance Henriksen, and Dee Wallace-Stone. Years ago, mountain climber Preston Rogers (Matt McCoy) suffered a terrible injury that left him wheelchair-bound in his remote cabin. Something strange is happening in the woods these days, though, and if Rogers holds out any hope of saving the lives of either his neighbors or the young college girls on a weekend retreat to the California mountains, he's going to have to convince the skeptical Sheriff Halderman (Paul Gleason) that something sinister is happening amidst the thick foliage of the forest and that numerous lives will be lost if they don't act fast. ~ Jason Buchanan, Rovi
Critic Reviews for Abominable
Audience Reviews for Abominable
Well despite a few decent actors involved ( Gleason, Henriksen, McCoy) this is total B-movie schlock as if you didn't realise already. It takes AGES to actually get to the point of the film which is simply a Bigfoot type creature running around in the woods killing some sexy girls and a few other guys in some remote cabins. Its OK I suppose...in places, but really terrible once the creatures face is shown, laughably so. A few nice moments here and there with the creature but most of this is painfully bad. Visually the story almost plays out like the original 'King Kong' with dumb screaming girls being grabbed by big hairy hands whilst the annoying McCoy just sits in his wheelchair (yes you read correctly) and watches shouting out the occasional 'hey watch out!'. Gotta love the ending though, almost like a 'Scooby Doo' moment.
Phil Hubbs
Super Reviewer
½
This movie is very slow paced. Very. The creature looks very fake. It has very stale acting. But that doesn't stop this gorefest to being a very awesome yet graphic horror movie.
Jacob Palacio
Super Reviewer
Any one else think the monster in this looks like Stacey Keach?
Ken Stachnik
Super Reviewer