Shelter
(2007)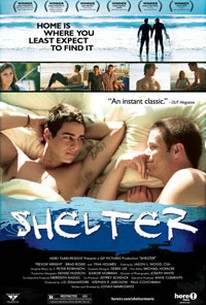 Movie Info
Love brings together two men who aren't sure where to fit a relationship into their lives in this romantic drama. Living in the oceanfront working-class community of San Pedro, Zach (Trevor Wright) is a young man in his early twenties who has been forced into the role of emotional anchor for his dysfunctional family; his mother his dead, his father is too ill to work, his sister Jeannie (Tina Holmes) is too busy partying to look after her five-year-old son Cody (Jackson Wurth), and Zach is the only one with the wherewithal to hold down a job and keep the rent paid. He's sacrificed his dream of attending CalArts in order to help Jeannie raise Cody. Between cooking at a diner and looking after Cody, Zach has little in the way of spare time, but as often as he can he heads to the beach to indulge his passion for surfing. While hanging out with his surfing buddy Gabe (Ross Thomas), Zach meets Gabe's brother, the struggling homosexual writer Shaun (Brad Rowe), who has taken a break from Tinseltown while rebounding from a dysfunctional relationship. Shaun goes surfing with Zach one day, and the two discover they're powerfully attracted to one another, and a flirtation turns into a love affair. As Shaun has to explain to his girlfriend why he no longer wants to be with her, Zach tries to make Jeannie and his father understand why he's come out of the closet. Shelter was produced for the gay and lesbian-oriented cable television network Here, though it enjoyed a brief theatrical release before its broadcast premiere.
Critic Reviews for Shelter
Audience Reviews for Shelter
½
A simple film that relies on the chemistry between Wright and Rowe, telling a sweet coming-of-age story about a young gay man trying to figure out what he wants in life. Unfortunately, it is also too conventional and predictable, with a lot of stereotyped conflicts.
Carlos Magalhães
Super Reviewer
½
I hate using the term "gay themed film" because very often most of the "themes" in these films are just as relevant to all people...but this is the story of a guy discovering that he is attracted to a man and attempts (in a very homogenized "movie of the week" way) to express all of the challenges that come with that discovery. The intent here is good and the story (while not very well written) is well acting. Unfortuantly the mediocre writting prevents you from ever sensing (much less actually feeling) much of the emotion that would be involved in a situation like this. It's a sweet film to spite it's stereotypical plot points (sadly there is always some truth in stereotypes), but because it never gets to deep into the emotions of the main ("gay") characters I don't think it serves as anything other then "light entertainment'. In other words - no ones opinoion or life is going to be changed by watching this. And that is ok, except for the fact that with a good cast like this - it could have been so much more.
"Shelter" may feature a gay romance but it's a far cry from one of those cheesy gay movies. This is a film about a twenty something just trying to find out who he is, what he wants to do with his life and not feel selfish about it. It's a lovely coming of age story that is never contrived and always rings true. Basically anyone can relate to this film.
Steven Carrier
Super Reviewer
Shelter Quotes
There are no approved quotes yet for this movie.