Happy-Go-Lucky
(2008)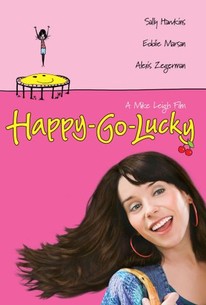 TOMATOMETER
AUDIENCE SCORE
Critic Consensus: Mike Leigh's latest partially-improvised film is a light-hearted comedy with moments that bite, and features a brilliant star turn by Sally Hawkins.
Movie Info
Just how hard is it to be happy? In the effervescent new comedy from writer/director Mike Leigh, Sally Hawkins stars as Poppy, an irrepressibly free-spirited school teacher who brings an infectious laugh and an unsinkable sense of optimism to every situation she encounters, offering us a touching, truthful and deeply life-affirming exploration of one of the most mysterious and often the most elusive of all human qualities: happiness. Poppy's ability to maintain her perspective is tested as the story begins and her commuter bike is stolen. However, she enthusiastically signs up for driving lessons with Scott, who turns out to be her nemesis--a fuming, uptight cynic. As the tension of their weekly lessons builds, Poppy encounters even more challenges to her positive state of mind: a fiery flamenco instructor, her bitter, pregnant sister, a troubled homeless man and a young bully in her class, not to mention that she has also thrown out her back. How this affects not only Poppy's world view but also the outlook of those around her begs the question "glass half full or half empty"?
News & Interviews for Happy-Go-Lucky
Critic Reviews for Happy-Go-Lucky
Audience Reviews for Happy-Go-Lucky
½
A refreshing film that will leave you smiling, with a cheerful character that may at first be mistaken for simple-minded in her constant optimism but later on proves to be much more complex in the way she sees things - which Sally Hawkins does a wonderful job in showing.
Carlos Magalhães
Super Reviewer
0 stars. This was the first time I gave a movie zero stars on Flixster...and it's not because I'm a cranky old bastard who hates happy movies. The blind optimism in Poppy goes nowhere. Nothing truly terrible happens to her; she doesn't really do anything with her optimism as, say, Amelie does. I thought I would at least enjoy Sally Hawkins' performance, but she doesn't seem happy-go-lucky. She seems drunk, and drunk people are only funny when you are drunk too. Her incessant self-deprecating chuckle-eye roll-head bob grated on my nerves. My soul actually feels deader after seeing this movie.
Alice Shen
Super Reviewer
An engaging character study about a woman blessed with a sunny disposition. It is a rare occasion that you see a protagonist who's care-free nature isn't looked down upon. Her naivety a source of contempt. Poppy the protagonist is in many ways the antithesis of a protagonist in a Sam Mendes film. She isn't cynical, jaded, or doing all in her power to not drown in the minutiae of everyday life. She is sweet, intuitive, independent, and always looking on the bright side. But rather than having her be an empty sack of smiles, Leigh fleshes her out in a way that even when you don't understand her, you root for her. Poppy does not wish to imitate "adult" life, but the pressure to do so is ever-present. Responsibilities mount, situations change, and the desire to find someone grows stronger with each day. Her interactions with her driving teacher, a man very consumed with the idea of responsible living, are awkward, funny, poignant, and an interesting point/counterpoint on proper living. Do I wish that Leigh would have probed a little more into what makes Poppy tick? Yes. But being my first foray into the world of Mike Leigh, I was more than pleased to spend a couple of hours with someone as unique and wonderful as Poppy.
Happy-Go-Lucky Quotes
There are no approved quotes yet for this movie.