Purple Violets
(2007)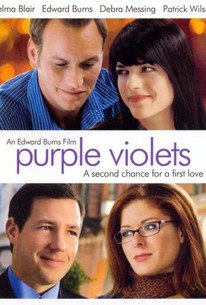 AUDIENCE SCORE
Critic Consensus: No consensus yet.
Movie Info
An unhappy woman finds new love with her old boyfriend in this romantic comedy-drama from writer and director Edward Burns. Patti Selma Blair) is a woman in her early thirties living in New York City. For years, Patti chased after her dream of becoming a successful novelist, but recently she's had to put writing on hold and is unhappily working in real estate. Patti's ennui isn't helped by the fact her marriage has fallen into a rut and neither she nor her husband are interested in one another anymore. When she was in college, Patti was in love with Brian (Patrick Wilson), and while Brian is fortunate enough to support himself writing crime fiction, he's smarting from the uncharitable reviews given to his latest and most personal work. One night, Patti is having dinner with her best friend Kate (Debra Messing) when she bumps into Brian, who is out with his friend Murph (Edward Burns), who in turn used to be involved with Kate. As the former lovers talk about their past and where life has taken them, Patti finds herself falling for Brian all over again, but both she and Brian are still dealing with the differences and insecurities that drove them apart years before. Purple Violets received its world premiere at the 2007 Tribeca Film Festival.
Audience Reviews for Purple Violets
0 stars. I'm kinda surprised this movie has such good reviews. I feel nothing for it at all. The script is filled with banal cliches about "writers" and "good writing," and all the women are either one-dimensional damsels in distress or one-dimensional heinous bitches. Pacing of the second act is too abrupt. Patti breaks up with Brian cuz she needs space, then they get back together without so much as a fade-out.
Alice Shen
Super Reviewer
This was good. I usually find Edward Burns's movies pretty boring, but somehow end up watching them anyhow because they have a good cast. This one was a big improvement, soundtrack is excellent, and a story and characters I could actually relate to for once.
Nicki Marie
Super Reviewer
I'm not crazy about Edward Burns as an actor, but I admire his determination to direct honest friendships and romances. Selma Blair and Patrick Wilson are likable enough, but not particularly interesting. The romance between Burns and Debra Messing however, lacks spark; he makes many attempts to rekindle their relationship, but we're never shown why they're right for each other.
Purple Violets Quotes
There are no approved quotes yet for this movie.
Discussion Forum
Discuss Purple Violets on our Movie forum!