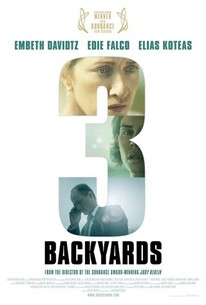 3 Backyards
2010, Drama, 1h 27m
17 Reviews
1,000+ Ratings
Rate And Review
Movie Info
An executive (Elias Koteas), a housewife (Edie Falco) and a youngster (Rachel Resheff) spend a curious day in their suburban town.
News & Interviews for 3 Backyards
Audience Reviews for 3 Backyards
"3 Backyards" starts with John(Elias Koteas) having a staring contest with his wife(Kathryn Erbe) at 3:30 am before he leaves to catch a flight that turns out to be canceled. He's not the only one leaving town as an actress(Embeth Davidtz) asks her neighbor Peggy(Edie Falco) for a ride to the Port Jefferson Ferry. And because she is just a kid, Christina(Rachel Resheff) has to go to school, even though she just missed the school bus. The thing I like most about "3 Backyards" are its moments of silence that not only allow the actors to take control but also say more than any of the dialogue does. What the movie comes tantalizingly close to depicting is the emptiness of suburban lives, as the distance between people only allows them to watch each other, not connect.(There is one moment of dislocation that is probably more accidental than anything else.) However, none of that is as interesting as it sounds here, as the movie lacks anything in the way of well-defined characters.

Lovely, elliptical and filled with quiet dread, this lovely film is as clear an argument for the vivid independent film world as any I have seen this year. Though it doesn't yet have a distributor, it is as good as any small-scale film I've seen this year. Depicting one tiny day in three suburban Long Island households, director Eric Mendolsohn sees every nook and cranny in the lives he puts under the microscope here, and if what he finds isn't new news, it's still perfectly observed and put together. Great performances all around and gorgeous cinematography help contribute to make this a film the deserves a much bigger audience than a couple of Manhattan screenings in a film festival. Beautiful.
See Details