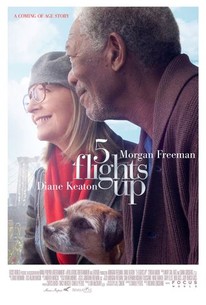 5 Flights Up
2014, Comedy/Drama, 1h 32m
63 Reviews
2,500+ Ratings
What to know
critics consensus
5 Flights Up is a bit of a narrative fixer-upper, but when it comes to watching Diane Keaton and Morgan Freeman share screen time, you really can't beat the view. Read critic reviews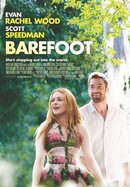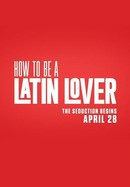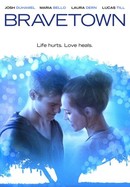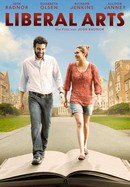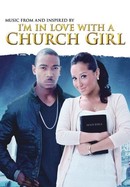 I'm in Love With a Church Girl
Where to watch
Rent/buy
Rent/buy
Rent/buy
Rate And Review
Movie Info
A husband (Morgan Freeman) and wife (Diane Keaton) spend a hectic weekend pondering the sale of the apartment they've shared for more than 40 years.
News & Interviews for 5 Flights Up
Audience Reviews for 5 Flights Up
Okay, I'm officially old. I really enjoyed this movie. Christ.

Nothing new here but good chemistry between Freeman and Keaton with a good premise. The "terrorist" angle seemed from another movie and distracted from the up mood of the movie. Use of flashback added to the narrative. Nixon annoying. (5-26-15)

5 SNAPS UP - My Review of 5 Flights Up (3 1/2 Legendary Stars) The recent success of the new Netflix series, GRACIE AND FRANK, speaks to the pleasures of watching two legendary actors clearly enjoying themselves despite the less-than-inspired packaging. The same can be said for 5 FLIGHTS UP, a hugely enjoyable if slight drama starring Oscar winners Diane Keaton and Morgan Freeman as an aging married couple who decide to sell their walk-up Brooklyn apartment before they get too old to take the stairs. Directed by Richard Loncrane (WIMBLEDON, BRIMSTONE AND TREACLE) and adapted by Charlie Peters from Jill Ciment's novel, HEROIC MEASURES, the film doesn't break new ground, but is a joy to behold due to the wonderful chemistry between its two leads. Additionally, the arduous process of buying and selling property in New York is portrayed with such fine attention to detail, that it almost plays as a ticking clock thriller. Cynthia Nixon is perfect as Keaton's niece and high-strung real estate agent. Her character drives the narrative and provides much of the humor. Although painted slightly as a villain, it's easy to identify with her in such a cutthroat climate. The film features an odd subplot involving a terrorist suspect whose actions directly affect the asking prices of the apartments at play, but ultimately, its reason for being is more about how it reflects on our main characters. Freeman seems so relaxed and filled with humor as a man old enough to no longer care what people think about him. He and Keaton easily embody a decades-old romance, creating a totally believable relationship, complete with thorniness and unconditional devotion to each other. Truthfully, I could watch these two ask Siri questions for two hours and be completely satisfied, but they give so much more to these roles. Brief flashbacks fill in the origins of their romance, setting up a sexual tension between the two that carries through to their elderly counterparts. Corey Jackson and Claire van der Boom not only have the cadences down of Freeman and Keaton, but they also match their chemistry in such an unfussy manner. Granted, this is a low stakes drama, with ailing dogs and bidding wars replacing the usual explosions seen in most multiplexes. My quibbles with this film are minor. David Newman's score feels too much like Michael Gore's TERMS OF ENDEARMENT theme, and I'm convinced it was used as temp music and a soundalike was born. It's still hummable and matches the warm visuals provided by GAME OF THRONES cinematographer, Jonathan Freeman. A big plus is the work of Production Designer Brian Morris, who won the Oscar for EVITA. His sets are credible for Brooklyn and Manhattan, never feeling too big, and filled with details that show a long life lived together. Whereas most films with well-heeled, elderly leads would have glossy, shiny sets, Morris revels in the clutter and messiness. The demographic for this film definitely skews older, but any young hipster planning on acquiring property could learn how not to behave by watching this film. The open house scenes feel so well-observed, with self-absorption and rudeness being the main course for the batch of buyers. One couple hilariously bring in their dog, who they refuse anyone to touch since it's going through training. Another obnoxiously dismiss the "old lady" feel of the apartment right in front of its owners. Ahh New York, where at least they stab you in the front! 5 FLIGHTS UP doesn't reinvent cinema. It's a small, loving slice of life story made enormously satisfying by the strength of two actors who have spent decades making us all feel at home. It's not often you see two people relishing sparring together and pulling off such expertly-executed grace notes. Sometimes, that's enough.
See Details