Seven Dwarfs (7 Zwerge)
(2005)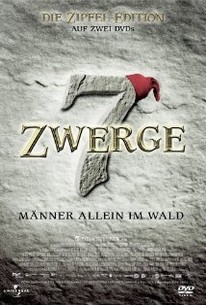 AUDIENCE SCORE
Critic Consensus: No consensus yet.
Movie Info
One of the world's most beloved fairy tales gets a slightly twisted update in the off-the-wall comedy from Germany. An enchanted forest is home to seven dwarves who, contrary to popular belief, are not noticeably shorter than the average guy and whose special skills are not all that special. The dwarves are, however, all guys who have been burned in their relationships with women, so when they happen upon beautiful Schneewittchen (Cosma Shiva Hagen) in the woods, they're interested but hardly optimistic. However, it turns out she's looking for refuge, and they're more than happy to help. Schneewittchen is on the run from the Evil Queen (Nina Hagen), who with the help of her henchman Spliss (Hans-Werner Olm) is trying to eliminate her more virtuous rival once and for all. When the Evil Queen manages to poison Schneewittchen and seal her inside a large plastic container suitable for leftovers, its up to the dwarves to rescue her and find the man who can bring her back to life. Nina Hagen, the noted German punk rocker who plays the Evil Queen, is the mother of Cosma Shiva Hagen, who appears as Schneewittchen; Nina's mother Eva Maria Hagen also makes a cameo appearance. ~ Mark Deming, Rovi
Critic Reviews for Seven Dwarfs (7 Zwerge)
There are no critic reviews yet for Seven Dwarfs (7 Zwerge). Keep checking Rotten Tomatoes for updates!
Audience Reviews for Seven Dwarfs (7 Zwerge)
I absolutely loved this hilarious take on the fairy tale, Snow White and the Seven Dwarfs. Utter chaos reigned as these bumblers, who have sworn to have nothing to do with women, adjusted to having the beautiful Snow White (Cosma Shiva Hagen) in their midst. Several running gags had me rolling with laughter, the best of which was due to the fact that the cast included no "little people". "I thought Dwarfs were shorter." "It's a common misconception." The Jester told nothing but brunette jokes to the Queen, who was platinum blond, until he was overheard telling the same jokes about the Queen. This was nothing but fun!
Mark Abell
Super Reviewer
½
This German film is definitely not for children! If you get it on DVD put the kids to sleep and then sit down to enjoy it... failing to do that will result in consequences - you could notice that your sons are exploring children books more thoroughly... with strange inclinations! The story is loosely following the traditional "Snow White" but the connection with the fairy tale is in name only. Very brave adaptation directed by Sven Unterwaldt in which the seven dwarfs, which are 5 or six feet tall, are living in the forest where no female is allowed! They strongly believe that women can only bring trouble, and trouble they didn't need! Regrettably, they find themselves in the midst of it! This unusual "fairy tale" starring Boris Aljinović has an outstanding cast of amazing actors like Cosma Shiva Hagen, Hans Werner Olm and Heinz Hoenig. Very interesting concept which reminded me on the Pythons movies, but not as well executed and at the end, however, remained sketchy. I'm still recommending it for viewing... you'll enjoy the freshness of it!
German Comedies are often so funny but this was boring and the dialogues DULL and please dont ask me about the Plot. I was so very dissapointed with Mirco Nontschew. I tried hard to remember if there was any funny moment. And the only funny Scene in the Movie I can remember which was Funny it was the Ending. I mean not THE END, sondern mm well the Scene before THE END. lol
Seven Dwarfs (7 Zwerge) Quotes
There are no approved quotes yet for this movie.