Kahaani
(2012)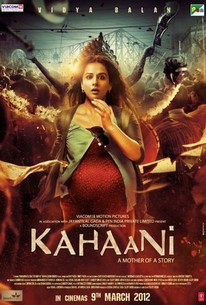 AUDIENCE SCORE
Critic Consensus: No consensus yet.
Movie Info
Vidya Bagchi arrives in Kolkata from London to find her missing husband. Seven months pregnant and alone in a festive city, she begins a relentless search for her husband. With nothing to rely on except fragments from her memories about him, all clues seem to reach a dead end when everyone tries to convince Vidya that her husband does not exist. She slowly realizes that nothing is what it seems. In a city soaked in lies, Vidya is determined to unravel the truth about her husband - for herself and her unborn child - even at the cost her own life.
Critic Reviews for Kahaani
All Critics (3) | Top Critics (1) | Fresh (3) | Rotten (0)
Buttressed by compelling perfs, this adroit thriller makes the occasional misstep but maintains momentum and credibility.
The film, with its tough, intelligent femme hero, seems to be a wry rejoinder to the male-centered action of so much Bollywood and Hindi cinema. It's great fun.
Essentially a one-woman show for Vidya Balan, and what a show it is.
Audience Reviews for Kahaani
Bollywood films mostly have women roles reduced to being love interests, but in Kahaani that stereotype is broken. While the plot does go downhill by the third act Kahaani is still a refreshing experience from the usual male-central Bollywood flicks. Kahaani is about a pregnant woman's searching for her missing husband which takes her from London to Kolkata, but everyone she questions denies having ever met her husband. The narrative structure of the film is very smart. One very good storytelling choice is introducing all the character within the first twenty minutes. Gradually building upon from first introduction. The mystery element of the film is well played. We only get a small glimpse of the overall mystery, but eventually grows into something bigger. The progression of the mystery feels natural with every new clue clearing up a part of the puzzle. The first two act are solid adding more to the mystery and characters past, but the last act is where the plot begins to crumble and show it cracks. It immediately stop building up the mystery behind our heroine missing husband and a twist ending that turns the film into an undercooked spy thriller. The twist never receives any buildup throughout the entire film making it reveal completely artificial and convoluted. Vidya Balan is outstanding in the leading role. Her ability to tailor her emotions of sympathy, anger and despair - multiplies the strength of her character and the film. At time coming of vulnerable and other frustrated over a missing clue making you worried about her safe being. Parambrata Chattopadhyay is subtle and splendid as Rana. Acting alongside with Balan in many scenes with great and convincing chemistry. Aside from the top notch acting it's succeed from a technical standpoint. Director Sujoy Ghosh makes the city of Kolkata a character of the film with it cinematography. He perfectly captures the essence of city - the culture, durga-puja, dirty alleys and even the strained lifestyle. There are no ultra-clean streets with pretty models running about; no unbelievably dramatic situations; no interrupting songs. This accompanied with the score which plays innocently as the characters travel the length and breadth of the city enchanting the mood of what we're seeing. Elegantly shifting mood with every new music piece we listen. Kahaani twist ending might diminish part of the viewing experience for some, but the complete package still satisfies. Filled with fine performances and a mystery that will have you hooked until the very end more than make up for any shortcomings that occur in the last act.
Caesar Mendez
Super Reviewer
There's several reasons I enjoyed this movie. I thought the twist near the end of the film that changes how you viewed what already happened. And I think that's the best type of twist, the type that completely changes how you viewed everything that already happened. I think it's a tad convoluted, but it was a good twist. And the other reason I liked the film was Vidya Balan. She has a confidence about her that is a welcome sight and she does a great job in this film. The problem with this film is that the story, or better yet the story progression, is lacking. The movie progresses like this 'find a lead, follow up on that lead, get a clue that leads to another lead' rinse and repeat. And I hate films that progress like that, it's just not good. The film tries to tie it to Vidya trying to find her husband and never giving up, so they do try to make it a personal affair for the main character, but I simply don't like this story progression. I suppose every film like this progresses like that, but it's far more noticeable in this film. Still, it's still a good film from top to bottom. There was never any point in the film that I thought that it was bad, so it's never bad at any point fortunately. That's about it really, this is a solid thriller. Flawed, but solid.
Jesse Ortega
Super Reviewer
½
Kahaani of loopholes. But such creative licenses are often used under the disguise of fictions. Yet, people can't help arguing which is quite understandable. I too wish that they hadn't used the IB backdrop. Some local police force or CID would have been more appropriate. For IB involves Intelligence which would probably end up feeling insulted by this highly logical Kahaani it tells!!! Apart from that, my other concern was the incredible Acting by Vidya Balan. Of course, there are moments when we get that natural performance. If only, it were easily natural to her!!! The movie is as good as her acting. Few have compared it to Lucky Number Slevin (can't quite recall it, but am sure that the premises weren't the same) for its treatment. Maybe. I can't confirm how much it's influenced from Ruby Cairo either since I haven't seen the latter as yet. Nor am I least keen to. Kahaani in itself is enough. Worth letting go than going for, but if you've nothing else for entertainment, you've MY heartfelt condolences.
familiar stranger
Super Reviewer
Kahaani Quotes
There are no approved quotes yet for this movie.