A Certain Kind of Death
(2003)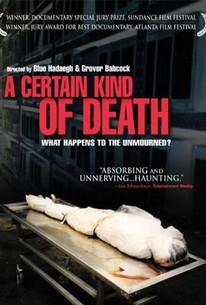 A Certain Kind of Death Photos
Movie Info
While death is an eventuality we all must face, not everyone makes plans for their funeral arrangements before they pass on, and some people, left with no family and meager financial resources, simply don't have the money to make burial plans in advance. Others die in a manner that makes them difficult to identify, while the remains of a few are simply never claimed by family or friends. Documentary filmmakers Grover Babcock and Blue Hadaegh have taken a look at this little-examined side of the American way of death, and A Certain Kind of Death looks at the people in Los Angeles whose job is to deal with such matters -- police officers, morgue officials, and others who deal with the remains of the unknown or unwanted and explain the protocols of their work. A Certain Kind of Death was screened in competition at the 2003 Sundance Film Festival.
Critic Reviews for A Certain Kind of Death
Audience Reviews for A Certain Kind of Death
½
This doc shows you what happens when someone dies with no next of kin. We take the journey with them step by step through all the paperwork and clean up. The film follows three men who have died and we get to see inside their homes and learn personal details about the lives they have lived. This is a graphic movie as we are shown dead bodies and more. Not recommended for the faint hearted. The one thing I think most will learn from this film is that the things we have collected in this life are never our own. We are merely temporary custodians of things that in the end mean nothing.
Jason Spencer
Super Reviewer
This is a superb documentary, not interested in probing its subjects (indeed no documentarian or film crew member is ever heard from) but instead settles to observe. The people interviewed seem to be allowed a free forum for their thoughts, like the director told them, "just do what you would normally do and help us understand what your job requires you to do". "Faces of Death" can totally suck on it because this crew ALSO got LA county morgue access, and they got just as awesome footage as you guys did, cept it wasn't all heavy handed and laced with shock value like the FoD series. This is a film that shows what is - what a modern pauper's death and burial looks like, exactly. Not much sentimentality, just what we find out about the person from recovered legal forms or papers left in their houses. We first meet these people as decaying remains. The camera is not afraid of dead bodies, even extreme cases and bodies left to decay as long as most of these are usually much more severe to look at than other corpses. So there are many things here you may not want to see in our bubbled modern world, and that luxury is afforded to you because of the people who work for coroners and mortuaries. This movie shows us exactly what these jobs entail; the best example in the sequence in which bodies are prepared for cremation and then cremated. It's a beautiful naturalistic filming technique and the result is pure reality. This is what life, and death, are really like, and it may take a hell of a lot to watch this. But if you're a sick objective fuck like me, you're just going "those are some great shots of blood filled body bags" or "look at that...died on the shitter. Probably what'll happen to me. I better make some skydiving arrangements ASAP if I get bowel cancer instead of waiting around my shitty apartment and making mounds of 'gonna die' documents."
_kelly .King
Super Reviewer
A Certain Kind of Death Quotes
There are no approved quotes yet for this movie.