A Little Bit Of Heaven
(2012)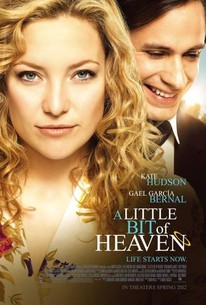 A Little Bit Of Heaven Photos
Movie Info
A Little Bit of Heaven is a love story set in New Orleans about an irreverent young woman who unexpectedly falls in love with her doctor. Marley Corbett (Kate Hudson) is young, beautiful, and wildly funny, but she's afraid of opening herself up to true love and commitment. Though she uses her humor to prevent matters from getting serious, a life-changing visit to her doctor (Gael Garcia Bernal) sends both of them on an eye-opening adventure of mutual discovery, leading to revelations neither thought possible. -- (C) Official Site
People Who Like this movie also like
News & Interviews for A Little Bit Of Heaven
Critic Reviews for A Little Bit Of Heaven
Audience Reviews for A Little Bit Of Heaven
There is nothing even remotely heavenly about this romantic dramedy. Kate Hudson as Marley is a bland, often trivial character who's growth and emotional fortitude are always followed by pithy whining. Nothing truly dramatic is handled with any care, the bits trying to be charming are insufferable, the characters are weak, and the plot is beyond boring. For a film about a woman changing her ways of thinking about the world amidst a cancer diagnosis, there's no depth, no human empathy. It's just a silly little comedy trying to be bigger than it is and failing again and again. In the end what's the point of the entire film? Yes she reacts, she changes her love life, her relationships evolve, but because she's such a horribly written character no one cares. The film tries to make light of cancer without showing the real world repercussions of cancer treatment and slow decline into death, which loses any depth or reality.
Spencer S.
Super Reviewer
Seriously people....why did you all dislike this movie so much? It was sweet, heartwarming, and just plain enjoyable. Granted, I adore Kate Hudson, and Gael Bernal, which is just a small part of why I found this movie very, very nice. The entire movie was very well done, really good cast, and had a sweet (but sad) storyline. A rather nicely made movie overall, in my opinion.
Cynthia S.
Super Reviewer
Life starts now. Good movie! This film was ballsy in a number of ways, chief of which is in its treatment of a story about death without shirking from the nasty details of anticipation, and the inevitable execution. Many Hollywood films tend to cop out at the very last minute, but this one tackled it with a lot of dignity, and proved that one doesn't have to always compromise to do what gets reflected in real life. That, and Kate Hudson showing a lot of nerve in many scenes almost sans makeup, looking quite ghastly and pale as the story called for it. Written by Gren Wells, it's more about how one should approach life when given a death sentence, with the romance angle taking a back seat despite marketeers' efforts to skew this into a romantic comedy. And in some ways this film made me think a little bit more about mortality, if one were to be struck by a serious illness which was detected late and the treatment really being a bitch, would you want to go ahead with trying to get cured, or to live whatever is left to the fullest? Think about it! Marley Corbett (Kate Hudson) is young, beautiful, and wildly funny, but she's afraid of opening herself up to true love and commitment. Though she uses her humor to prevent matters from getting serious, a life-changing visit to her doctor (Gael Garcia Bernal) sends both of them on an eye-opening adventure of mutual discovery, leading to revelations neither thought possible.
A Little Bit Of Heaven Quotes
| | |
| --- | --- |
| Vinnie: | I definitely live up to my nickname - little bit of heaven |
| | |
| --- | --- |
| Marley Corbett: | I was scared i wasn't enough but i was |
| | |
| --- | --- |
| Marley Corbett: | Lets face it dying isn't an option |
| | |
| --- | --- |
| Marley Corbett: | Drink this dark flavored shit and it'll make you shit |