A Man Called Ove (En man som heter Ove)
(2016)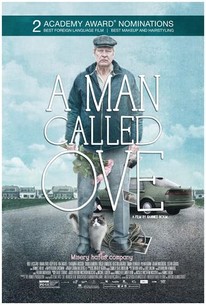 TOMATOMETER
AUDIENCE SCORE
Critic Consensus: A Man Called Ove's winsome sincerity -- and Rolf Lassgård's affectingly flinty performance in the title role -- keep it from succumbing to excess sentimentality.
A Man Called Ove (En man som heter Ove) Videos
A Man Called Ove (En man som heter Ove) Photos
Movie Info
Stepping from the pages of Fredrik Backman's international best-selling novel, Ove is the quintessential angry old man next door. An isolated retiree with strict principles and a short fuse, who spends his days enforcing block association rules that only he cares about, and visiting his wife's grave, Ove has given up on life. Enter a boisterous young family next door who accidentally flattens Ove's mailbox while moving in and earning his special brand of ire. Yet from this inauspicious beginning an unlikely friendship forms and we come to understand Ove's past happiness and heartbreaks. What emerges is a heartwarming tale of unreliable first impressions and the gentle reminder that life is sweeter when it's shared.
News & Interviews for A Man Called Ove (En man som heter Ove)
Critic Reviews for A Man Called Ove (En man som heter Ove)
Audience Reviews for A Man Called Ove (En man som heter Ove)
½
The redemption of the grumpy old man is not a particularly new premise. It feels fresh here because of its very Swedish setting. While the scenes in the present work, it is the flashbacks that often slow down the film and almost explain too much. Once you know why he turned out the way he did things get a little too predictable. There are genuinely sweet moments, especially concerning the cat, but some are also very cheesy. The film could actually have stayed a little meaner for much longer, it would have been better for it.
It is impressive how it has so many clichés but manages to be so honest and have a heart - an enormous heart actually, just like its protagonist, who wins us over despite his excessive grumpiness (or because of it) and thanks to Rolf Lassgård's touching performance.
Carlos Magalhães
Super Reviewer
We've seen films about grumpy, widowed old men before, but never quite like this. I've always been a fan of self-contained films that don't require too many locations in order to tell the story at hand, but this is one of the most impressive films I have ever seen accomplish that. Not to say that the camerawork feels like a documentary, but director Hannes Holm creates an atmosphere of characters that seems as though they exist out in the world somewhere. From all of its subtleties, to all of its ambitious plot points, A Man Called Ove is not just a great Swedish film, but one of the best films I was able to see in all of 2016. Here is why I believe you should run (not walk) to check out this film. Whether or not you can speak the Swedish dialect, A Man Called Ove is a must-see film. That's really all you need to know in my opinion, due to the fact the plot details reveal themselves slowly throughout the film. For that reason, I'm only going to touch on a few things that stood out to me. The basic premise is that a man has lost his wife from an unknown cause and finds himself in constant mourning. Never a hit in making friends, this lonely man named Ove finds himself wanting to commit suicide in order to be with his wife. Every time he is about to commit suicide, something prevents it from happening. Making friends with new neighbours that move in, the film begins to balance some happy and sad flashbacks, revealing he and his wife's past. That is as much as I can say without giving away the incredible conclusion this film has. Periodically, the film flashes back to explore the relationship that Ove had with his wife Sonja. At its core, there really are two stories happening here. One about an elderly man living alone and the other a love story about a very unlikely couple. Their relationship in the past was a joy to see, because it added the much-needed levity to an otherwise somber film. It keeps you engaged throughout the entire duration, due to the fact that the present day material is great and the material in the past constantly reveals new things about certain characters, giving more meaning to the present day. Also, the ending to this film is absolutely stunning in my opinion, and that wouldn't have been possible without the flashbacks. A Man Called Ove is a great lesson for film student who wish to know the perfect use of a flashback. As mentioned above, the direction of this film by Hannes Holm is incredibly sincere and some of the best I have seen from any independent production in 2016. With very few characters, he is able to create a world around them that feels incredibly well-realized and lived-in. A Man Called Ove is a rare film that gets better as it progresses and more in revealed, meaning that a second viewing will be warranted and will make the film even better once you know everything. That is no small feat for a picture to accomplish, but this one does it in spades. I loved every second of this directors vision for this beautiful (albeit heartbreaking) story. In the end, as I look back on A Man Called Ove, I appreciate it more and more, due to the fact that it really is a film that tries to get your spirits up. Beginning with an elderly man who wants to commit suicide is not enjoyable in any way, but the way that he is brought out of that way of thinking was amazingly bittersweet. With fantastic character development and a conclusion that had me in tears, I really couldn't find much to dislike about A Man Called Ove. It's one of the best films in all of 2016, at least in my opinion, and I high recommend checking it out. Its Oscar nomination for best foreign film is more than well-deserved. This is exactly the right way to make a character study. I love A Man Called Ove.
A Man Called Ove (En man som heter Ove) Quotes
There are no approved quotes yet for this movie.