A Nous la Liberté (Liberty for Us)
(1931)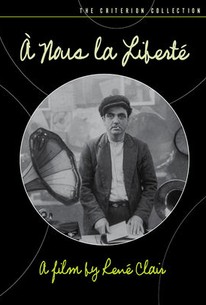 A Nous la Liberté (Liberty for Us) Photos
Movie Info
À Nous la Liberté is an early talkie from French filmmaker René Clair. Louis (Raymond Cordy) and Emile (Henri Marchand) are a pair of convicts whose lives take decidely different paths after prison. Emile works his way up the ladder of capitalism, becoming a phonograph factory boss, a job that finds him overseeing a bleak outfit of automatous drones. Louis, on the other hand, lives the life of a poverty-stricken vagabond. Despite their contrasting lots, the pair meet up again later in life. À Nous la Liberté is perhaps best remembered for being the main inspiration for Charlie Chaplin's 1936 classic Modern Times. ~ Matthew Tobey, Rovi
Rating:
NR
Genre:
, , , , ,
Directed By:
Written By:
In Theaters:
On DVD:
Runtime:
Studio:
Harold Auten
Critic Reviews for A Nous la Liberté (Liberty for Us)
Audience Reviews for A Nous la Liberté (Liberty for Us)
Freedom Is Different Things For Different People Okay, let's get this out of the way right now. This film was not plagiarized by Charlie Chaplin. A lawsuit was filed, but so what? As the audio essay included on the Criterion DVD points out, Chaplin was also sued by someone who claimed that his experiences in a mental hospital was the basis for [i]Modern Times[/i], and no one believes him, either. Yes, there are a few similarities, but only a few. By and large, they are two very different movies, not solely because this one is the story of two people, not just the lone Little Tramp. Besides, if you're looking at Great Themes of the 1930s, you're going to encounter plenty of works about the dehumanization of the Little Man because of industrialization. It was a theme which had been building for some time, and it's one which hasn't exactly gone away. In fact, there isn't even any evidence that Charlie Chaplin had seen this movie until the lawsuit; it's almost certain the suit was a publicity stunt by the original studio. Émile (Henri Marchand) and Louis (Raymond Cordy) are fellow prisoners in France. They become friends, and they escape together. I kind of missed how they were separated, but anyway, Louis ends up building a career for himself as a phonograph manufacturer. He has a large factory, and he's covering up his questionable past. Eventually, Émile ends up as a worker in Louis's factory without knowing that it is his friend who is in charge. He sees Jeanne (Rolla France), a young woman who also works at the factory, and he falls in love with her. And, yes, he and Louis encounter one another again and continue their friendships, with Louis even agreeing to help Émile meet up with Jeanne, whose uncle is some sort of executive at the company. But all is not well, because a group of people from their past recognizes Louis and decide to blackmail him in exchange for not revealing his secret to the police. Comedy, I think, is much more personal than tragedy. What makes people cry is universal; what makes you laugh is within you. That's why there are so many different kinds of comedies, or anyway that's my guess. It's one of the reasons I am less inclined to pick on people for not liking comedies I love. (Though one of the reviews of this movie that's up on the site at the moment is a negative review by an obvious troll, so let's discount that!) This movie is funnier than the French "comedy" I watched yesterday, but I don't think it's as funny as Chaplin's take on the same theme. And of course, in the end, that's what we judge comedies on most. The cinematography of a comedy may be excellent, the costumes superb, the score one of the best ever written. But if it doesn't make you laugh, well, that's death for your enjoyment of the movie. Dramas are easier; it's okay if they don't make you cry. Though of course, the plots of dramas have to make sense, and comedies don't. It's nice to see a French comedy that doesn't rely on true insanity. The Japanese take a lot of grief from Americans for being weird, and it's true that there is a major cultural gap between the US and Japan. However, we actually derive more of our culture, from a historical perspective, from France, and I don't even know how it's possible for their films to be so different from ours. I have speculated before that France has been about experimental film pretty much as long as there has been film, and that it has included fiddling with plot. It is true, as I said, that the plot of this one isn't revolutionary enough to justify the plagiarism suit. The jokes are not even always clever; many of them are the sort of jokes that everyone makes in this kind of comedy. And, yes, it's worth noting that I liked it better than most of the more original French comedies I've seen. But that's another one of those things which makes me wonder about my own limitations as a critic--if I were capable being broader-minded, would I like French cinema better? The movie concludes on the note of idealism which seems to be one of the two choices in this kind of movie. The phonograph factory becomes so automated that it's supervised by two guys who technically spend more of their time playing cards than actually working, and that means that everyone else has the time to do whatever they want, aided by the profits they have as stockholders in the company. (Which they are because of a wacky but satirical sequence involving wind.) This is the dream of automation; eventually, we hope, no one will have to work and machines will produce everything we need. I read something not long ago about how freedom means knowing that you don't actually need to make a living. Only in order for the stock of the factory to be worth anything, someone has to keep buying the phonographs. We can't all coast as stockholders; it's easy to say that not everyone needs to make a living if you can afford not to work yourself.
Edith Nelson
½
Very funny, very sweet. A very early sound film for France; part of the fun is to see the parts that Chaplin, Lucille Ball and others 'borrowed.'
Adam Roberts
½
A great movie with a great message.
A Nous la Liberté (Liberty for Us) Quotes
There are no approved quotes yet for this movie.
Discussion Forum
Discuss A Nous la Liberté (Liberty for Us) on our Movie forum!