A Novel Romance
(2011)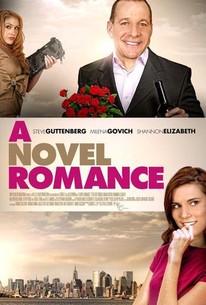 Movie Info
Nate Shepherd, late 40's, and Jenny Sparks, early 30's, meet in a fancy New York eatery. Complete strangers who have had a rotten day, waiting for their better halves, they reveal to one another that they are going to meet new people tonight. They quickly realize they are waiting for each other. When Nate loses his girlfriend (after getting fired from his cushy job at an ad agency) and Jenny loses her boyfriend to a drug overdose, Nate's girlfriend suggests that they should move in together as friends to split the rent and ease each others pain. As their friendship grows into something more, their relationship becomes a loving but complicated experience.
Critic Reviews for A Novel Romance
Audience Reviews for A Novel Romance
½
Not great, but not as bad as the critic reviews would have you believe. If you can look past a few VERY awkward scenes, which are due more to bad script/editing/directing than acting, this isn't that bad. Steve Guttenberg isn't the world's greatest actor, but he gets a bad rap. There's a lot more to him than Carey Mahoney. Unfortunately, he didn't have a lot to work with here. I still enjoyed it for what it is, a mediocre romcom with the happy and the sad.
Gaspar Oot
Steve Guttenberg is getting too old to play the lead in a romantic comedy like this. The story was not even that well thought out as it was not even remotely realistic. Who is their right mind would just randomly stay at someone's house because their ex died and you had met once before? It's super strange and not even the side story of his writings makes it make any sense.
Sarah Helwig
½
"A Novel Romance" supplies a response to the question, "Is Steve Guttenberg still working?" but leaves unanswered the natural follow-up: "Why?"
Lee Mayo
A Novel Romance Quotes
There are no approved quotes yet for this movie.
Discussion Forum
Discuss A Novel Romance on our Movie forum!