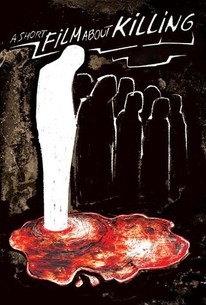 A Short Film About Killing
1988, Drama, 1h 24m
22 Reviews
5,000+ Ratings
Rate And Review
A Short Film About Killing Photos
Movie Info
Jacek (Mirosław Baka) climbs into the taxi driven by Waldemar (Jan Tesarz), tells him to drive to a remote location, then brutally strangles him, seemingly without motive. He's soon arrested and turned over to the state, with his only ally his idealist defense attorney, Piotr (Krzysztof Globisz). Defending his client, Piotr throws himself into the trial, but the outcome is never in doubt. Jacek is found guilty and sentenced to be executed, a death just as brutal as that suffered by his victim.
News & Interviews for A Short Film About Killing
Audience Reviews for A Short Film About Killing
Not as short or as about killing as you might believe. I suppose "A regularly-timed film about a political point of view" didn't have the same ring. Still, it's poignant.

<i>"Thou shalt not kill."</i> A dark look at the human's psyche, <i>A Short Film About Killing</i> unleashes a debate on how moral is relative from the personal perspective of whoever handles it given any situation. Despite some random emotional fillers that distract the viewer from the original intentions of the film, Kieslowski accomplishes a disturbing sepia tone for highlighting relevant issues, among which are: - The contradiction of a death sentence as a condemnation of murder. - The events that are behind the curtain of each individual: his personal life background that we do not see. - The implications of standardizing human actions and restricting them to what has been accepted as an agreeable consensus. It is easy to point the finger towards what you condemn, but remember that when you point with your index finger, there are three other fingers pointing at you. Silence is the wisest judge. Remember that our nature is flawed and dual, but complex too. In that sense, I also think that the intentionally darkened corners in the film plays a role. Notice several things about it: - It only appears when the main characters are on screen, but not during the landscapes or neutral events. - 90% of the times, the killer walks towards the dark corner, whereas the sentence executioners walk to it around 50% of the times (mmhh...), and the lawyer usually walks towards the bright side. Maybe an invitation from the Polish auteur to form our own opinions? Great idea; I'll accept that invitation and construct my criticisms. 85/100

While not sufficiently short, I did get its sense of killing (in terms of length as well as its content). Its graphic violent scenes are said to be highly effective. While not shocking, they're boring enough to end up as an avoidable drag (if it's the same movie I watched). Apparently, I'm at loss for my shortsightedness to savor this acclaimed masterpiece. All the same, I did find it engaging in parts, and appreciate its uncomplicated storyline. If only it was equally interesting..... Hope you face no problems enjoying it to its fullest.

Grim, uncompromising, opaque: these are the first words that come to mind when viewing Kieslowski's "A Short Film About Killing." One of two full length films to emerge from his famous "Decalogue", this film focuses on the dark side of human nature. No attempt is made to balance the scales with any glimmer of hope and Kieslowski is relentless in achieving his goal. The film is about 3 polish men and how their fates are intertwined. The murders, one the cause of spontaneous violent desire and the other a calculated act of the state, are both agonizing to watch. The audience is given no heroes to root for or villains to wish ill upon. Instead, Kieslowski wishes to show the senselessness of these acts and that killing perpetuates killing. While the films subject matter wades heavily in the macabre, the images themselves are rendered in a way that makes the image very dark and foreboding. There are no brilliant or bright colors here and some of the characters appear to be surrounded by an encroaching circle of darkness. In one of the murder scenes, the screen almost goes to black when killer realizes his victim is actually dead.
See Details