A Spell To Ward Off The Darkness
(2014)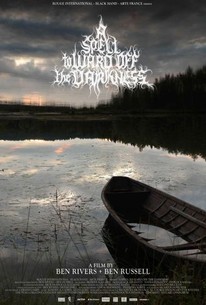 A Spell To Ward Off The Darkness Photos
Movie Info
A SPELL follows an unnamed character through three seemingly disparate moments in his life. With little explanation, we join him in the midst of a 15-person collective on a small Estonian island; in isolation in the majestic wilderness of Northern Finland; and during a concert as the singer and guitarist of a black met al band in Norway. - Marked by loneliness, ecstatic beauty and an optimism of the darkest sort, A SPELL is a radical proposition for the existence of utopia in the present. - Starring musician Robert AA Lowe (best known for his intense live performances under the name LICHENS) in the lead role, A SPELL lies somewhere between fiction and non-fiction - it is at once a document of experience and an experience itself, an inquiry into transcendence that sees the cinema as a site for transformation.(C) Official Site
Critic Reviews for A Spell To Ward Off The Darkness
Audience Reviews for A Spell To Ward Off The Darkness
One star for the heavy metal, if you leave out the singing. This is a good film to go to if you have to get indoors somewhere dry for a while and take a nap during a film that has really long takes of nothing happening, and I mean really long takes. Except for the band members, all of the characters in this including the lead actor are incredibly boring and superficial. The woman spouting the potted philosophy takes the cake for inanity. But ignore everything and have your sleep; that will be the best part.
A Spell To Ward Off The Darkness Quotes
There are no approved quotes yet for this movie.