Aarakshan
(2011)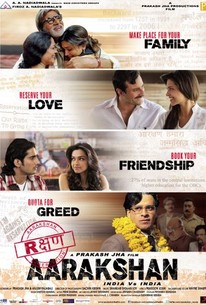 Movie Info
Aarakshan is the story of Prabhakar Anand (Amitabh Bachchan), the legendary idealistic principal of a college that he has single-handedly turned into the state's best. It is the story of his loyal disciple, Deepak Kumar (Saif Ali Khan) who will do anything for his Sir. Of Deepak's love for Prabhakar's daughter, Poorbi (Deepika Padukone), of his friendship with Sushant (Prateik). It is the story of their love, their lively friendship, their zest for life, and of their dreams for the future. Centered on one of the most controversial issues of recent years, with the Supreme Court's order on reservation, the story suddenly becomes a rollercoaster ride of high drama, conflict, and rebellion, which tests their love and friendship for one another, and their loyalty to Prabhakar Anand. -- (C) Reliance Big Pictures
Rating:
NR
Genre:
Directed By:
Written By:
In Theaters:
On DVD:
Runtime:
Studio:
Critic Reviews for Aarakshan
Audience Reviews for Aarakshan
½
Very interesting information about corruption and politics in India's educational system. Unfortunately it's rarely an involving or entertaining movie; it never goes beyond polemics. Too bad, a good movie about the subject could be amazing.
Michael Harbour
The flight takes off to land at the pre-destined location, but lands you somewhere else. The director is a shrewd wolf wearing the skin of the sheep. Saying that the subject needs attention, he cruelly shapes the sensitive issue to his ends. Some states banned it saying that it's vulnerable to riots, but the director fought against it in the court. All in the name of the promotion. As expected, it did create some disturbance in certain regions. All might have been justified had the movie served its said-to-be-purpose. But the movie rises no more than the same old good v/s evil game. A man with principles faces a corrupted man, loses his valuables, but his morals and family, then the movie descends to the predictable theatrical route and ultimately he emerges as a winner. The discussions pertaining to "Aarakshan" does come somewhere in between, but its not the primary issue here. The focus is more on free education and the significance of educational institutions. And that all too seemed to be presented before us just because they needed to preach something after all (and fill the runtime). Big names like Amitabh, Saif, Deepika and Manoj were enough to lure in audiences who would expect an interesting movie on a serious issue. The actors played their part well, but the movie failed to. Obviously, JMO. 0.5/10.
familiar stranger
Super Reviewer
½
Prakash Jha's films are a social media themselves. With a grave look at each of society's controversial attributes, we understand the ethical and moral implications through a dedicated vision that Jha has so meticulously brought to life. Occasionally, he sets the bar so high, that it is difficult even for him to fulfill the audience's quest for enlightenment. In pursuit of modernization and development, the Indian Government passed many bills. Among the most debated and relevant was the one that allocated higher reservations for backward castes and tribes for admission into colleges. Jha's take on the Aarakshan scenario deals with the fundamental gain for backward classes, the challenges for the rest of society, the impact on the educational system and the dilemma for an idealist principal of a renowned college in choosing sides. You are either for Aarakshan, or you are against it. The idealist Principal behind the most renowned college, Prabhakar Anand (Amitabh Bachchan) has established order with strict codes that nurture students through dedicated professors while maintaining high disciplinary standards. Eager minutes pass by till we witness the typical intensity of a Prakash Jha film when the Supreme Court declares the higher reservation standards for backward castes in educational institutions. Clear lines are drawn between those who support it and those who see it as a threat to the system. The principal's apprentice, Deepak Kumar (Saif Ali Khan), is a dalit, who takes a stand to speak out against those who humiliate backward castes over the subject of Aarakshan. Confronted by Professor Mithilesh Singh (Manoj Bajpai) and his own friend Sushant (Prateik Babbar), Deepak finds few supporters who see his viewpoint. He parts ways with his girlfriend Poorvi (Deepika Padukone) and his Principal to seek other opportunities. This is the point where Jha's Aarakshan deviates from the subject and takes an altogether new course; that of commercial coaching classes that adversely affect the conventional education system. Much of the story thereafter revolves around Prabhakar Anand's fight to survival against Mithilesh Singh's coaching academy through free communal teaching. The criticality of Aarakshan as the subject is now on the back-burner and through much of the film's second half, it's the battle between the two educational spheres and their mentors. The film's strongest points remain with the subject of Aarakshan itself. The confrontations involving Saif Khan, Manoj Bajpai and Amitabh Bachchan are not only intense but thought provoking as well. This is when the three actors emerge in their best forms with realistic arguments and stand-points over the topic. As Prabhakar Anand dedicates long hours to his free tutoring sessions, we begin to understand the relevance of supportive education and its wicked sister, the commercialized coaching classes. The theme promoted in the previews is 'India v/s India' but the two sides here are those who support Prabhakar Anand and those who support Mithilesh Singh. The controversial quotas are already forgotten.... Deepika Padukone is a complete waste if she isn't dancing to Dum Maaro Dum. She simply cannot act. Year after year of good opportunities have yet to unravel an actress in her but we might never see that come true. Prateik Babbar's future looks grey.... his voice might just be his bane apart from the look of helplessness that's his trademark. Saif Ali Khan has done a very good job in a shorter than expected role but that's because Manoj Bajpai and Amitabh Bachchan fight it out through most of the second half of the film themselves. Bajpai has truly enjoyed playing the negative character which he does so exceedingly well. Amitabh Bachchan carries the burden of a weak screenplay upon his shoulders and provides the sincerity, determination and patience that we see in Prabhakar Anand's character. Shankar Ehsaan Loy's music is forgettable with just 'Achcha lagta hai' and 'Roshni' being the top picks in the album. The dialogues are nowhere near the standards set in 'Raajneeti' but they do stir emotions during the confrontational scenes. Background music, art direction and cinematography seem a little below par for a Prakash Jha film but what you do take back, are the performances. Amitabh Bachchan, Manoj Bajpai and Saif Ali Khan make this film watchable. After 'Gangajal', 'Apaharan' and 'Raajneeti', Prakash Jha's take on reservations promoting social equality leaves more to be desired. Aarakshan doesn't take sides, doesn't indulge in portraying the fallacies or benefits of the reservation system, nor does it provide a pragmatic alternative. One cannot spend 20 hours a day in providing free tutoring when they have a household to take care of. It is a desirable idea but far too unreal and too good to be practical. There is a lingering disbelief of Aarakshan being a true Prakash Jha film. It tries to be one, but the inconsistencies and deviations spur whatever disappointment one might experience or perhaps, the bar was set too high the last time we witnessed a political gameplay. 7.761 on a scale of 1-10.
KUNAL KHANDWALA
Aarakshan Quotes
There are no approved quotes yet for this movie.