An Affair to Remember
(1957)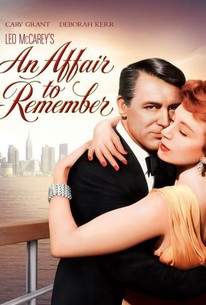 An Affair to Remember Photos
Movie Info
An Affair to Remember, director Leo McCarey's scene-for-scene remake of his own 1939 film Love Affair, isn't really an improvement on the original, but it's equally as enjoyable. Cary Grant and Deborah Kerr, high-profile types both engaged to be married to other people, meet and fall in love during an ocean voyage. To test the depth of their commitment to each other, Grant and Kerr promise that, if they're still in love at the end of six months, they will meet again at the top of the Empire State Building. Clips from An Affair to Remember were used as "reference points" throughout the 1993 romantic comedy Sleepless in Seattle, which likewise concluded atop the Empire State Building. Disproving the theory that "Third Time's the Charm," Warren Beatty attempted to remake Affair to Remember, again titled Love Affair, in 1994. ~ Hal Erickson, Rovi
Critic Reviews for An Affair to Remember
Audience Reviews for An Affair to Remember
½
The product of superb acting and poor direction. Many scenes felt as though they were meant to be much more moving than they really were. The swelling music and the long silences made me look at my watch more than it made me reach for the tissues. With that said, Grant's charm cuts through every scene and I completely understand why the mere mention of this film's title gives most women heart palpitations. Also, what the hell is with all of the songs?
A playboy and a woman meet on a cruise ship and agree to meet six months later on the roof of the Empire State Building. There are moments when Cary Grant is irresistibly charming and Deborah Kerr exhibits that sensual grace that only women in old movies can master and moments when director Leo McCarey is able to capture the perfect image to tell an entire story (instead of a kiss, we see Ferrante's feet re-trace their steps up stairs, and the "hello" in the theater was exceptional acting and directing) - these are the moments that remind me that I'm watching a classic. But the rest of the film is quite simply bad. Aside from frightfully annoying children singing moralistic balderdash for the grand total of ten minutes (approximately - I was trying to puncture my eardrum with a broken Coke bottle), the characters' romance is routinely interrupted by plot elements that mean as much to them as they do to us (meaning: nothing). For example, Ferrante and McKay's attitude toward the boat knowing about their romance is insouciant, but the script makes it a big deal, and further, each leaves his/her other lover with such quick abandon that it's hard to understand what drove them to be so secretive during the first hour of the film. Overall, though An Affair to Remember is a recognizable romantic classic, it is only so highly regarded for a few scenes; the rest is just bad filmmaking.
Jim Hunter
Super Reviewer
½
A nice love story buried in the ongoing saga of two people that find love while both are committed to others. After dragging on a while.... the movie seems rushed at the end, like a clock was ticking and let's just wrap this up! Fun to see the movie the girls cry about in "Sleepless in Seattle".
Thomas Johnston
Super Reviewer
An Affair to Remember Quotes
| | |
| --- | --- |
| Terry McKay: | Oh, it was nobody's fault but my own. I was looking up. It was the nearest thing to heaven. You were there. |