Africa Addio (Adios Africa) (Africa Blood and Guts)
(1966)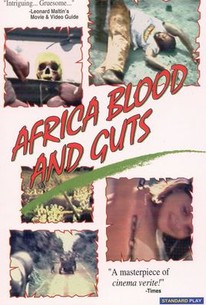 AUDIENCE SCORE
Critic Consensus: No consensus yet.
Movie Info
Africa, Blood and Guts is an edited-down version of the 1966 documentary Africa, Addio, a follow up to the directors' Mondo Cane. Whereas the original 138-minute version of Addio sought to criticize practices and customs in 1960s Africa and demonstrated a fair amount of substance (drawing extreme controversy for its political and social observations about Africa), this reduced version exists only for the sake of exploitation - exclusively emphasizing homicides, genocides, mutilations, the butchering of animals and all manner of other grotesquerie.
Cast
Critic Reviews for Africa Addio (Adios Africa) (Africa Blood and Guts)
All Critics (4) | Top Critics (1) | Fresh (1) | Rotten (3) | DVD (1)
Africa Addio is a brutal, dishonest, racist film. It slanders a continent and at the same time diminishes the human spirit. And it does so to entertain us.

If this isn't meant as a parody (which I don't think it is), then it is so inept that it goes well beyond tastelessness into sheer stupidity.
Africa Addio affords some journalistic integrity, which is sacrificed, as per usual and at most every opportunity, to find graphic animal deaths and women.
Audience Reviews for Africa Addio (Adios Africa) (Africa Blood and Guts)
The makers of MONDO CANE spend three years in Africa documenting the transition from colonialism to self rule, capturing massacres of both wildlife and humans. This is a difficult movie to watch, and to evaluate. On the one hand, there are the allegations that some scenes are staged, other scenes (such as the drawn-out killing of an elephant with spears) are needlessly exploitative and tasteless, and the entire tenor of the film seems skewed towards contrasting European civilization with the savagery of the native African. On the other hand, the directors unearthed an amazing amount of historically important footage of massacres and crimes against humanity that were going on in Kenya, Rawanda and other places in post-colonial Africa, which progressive Europeans of the time did not want to admit or see. A troubling film all around.
Africa Addio (Adios Africa) (Africa Blood and Guts) Quotes
There are no approved quotes yet for this movie.