After the Fox (Caccia alla volpe)
(1966)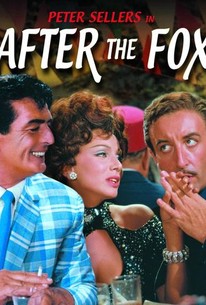 After the Fox (Caccia alla volpe) Videos
After the Fox (Caccia alla volpe) Photos
Movie Info
In this film, Peter Sellers plays an Italian thief who can't seem to stay out of jail. His latest scheme involves moving $3 million worth of stolen gold bullion from Cairo to Rome. To cover his tracks, Sellers pretends to be a "nouvelle vague" movie director filming a crime picture.
Critic Reviews for After the Fox (Caccia alla volpe)
Audience Reviews for After the Fox (Caccia alla volpe)
Apparently this film was a box office failure, but I *liked* it. I'm not a huge Peter Sellers fan, so I was surprised by how much I enjoyed this comedy. Its characters are full of humor and, while the story is zany, it's somehow all done in a rather quiet way - as if it really doesn't know that the story it's telling is funny. Victor Mature is wonderful as a former leading man who is unwilling to admit he's aging. Overall, I liked this movie a lot and genuinely laughed quite a few times.
Hannah Megill
½
Vittorio De Sica directed a comedy starring Peter Sellers, who knew? and there's a reason...it's not very good.
Ken Stachnik
Super Reviewer
½
Considering all the talent working on this comedy, both behind and in front of the cameras, it should have been much better. Its really only a mildly funny tale about and ingenious convict (Peter Sellers) who gets involved in moviemaking in order to cover a big caper. Veteran actor Victor Mature plays an American, a "has been" movie star. He hams it up all the way for the films biggest laughs. Niel Simon wrote the script. The story begins in Cairo with the hijacking of $3 million in gold bullion. The thieves need a way to smuggle the two tons of gold bars into Europe. There are only four master criminals considered able to smuggle the gold: one is French (but so crippled he can barely move his wheelchair); one is Irish (but so nearsighted that he is arrested after trying to hold up a police station instead of a bank); one is German (but so fat he can barely get through a door). The only man cunning enough to outwit Interpol is Aldo Vanucci (Peter Sellers), also known as The Fox, a master criminal with a talent for disguise. Don't expect too much and you might enjoy the film. See the trailer at: http://www.youtube.com/watch?v=InAduv2MUSY NOTES: 1 Despite its notable credits, the film was poorly received when it was released. It has since gained a cult following for its numerous in-jokes skewering pompous directors, including Cecil B. de Mille, John Huston, Federico Fellini, Michelangelo Antonioni and De Sica himself, vain film stars, their starstruck audiences and pretentious film critics. 2 The film has some kinship to What's New Pussycat?, which was released the previous year and also starred Sellers. That film was the first written by Woody Allen who, like Neil Simon, had been a staff writer for Sid Caesar. Even the advertising tagline on the posters and trailer for After The Fox proclaimed, "You Caught The Pussycat...Now Chase The Fox!". Directed by Vittorio De Sica Produced by John Bryan Written by Neil Simon Cesare Zavattini Starring Peter Sellers Britt Ekland Lydia Brazzi Paolo Stoppa Victor Mature Tino Buazzelli Music by Burt Bacharach Piero Piccioni Cinematography Leonida Barboni Editing by Russell Lloyd Distributed by Delgate / Nancy Enterprises United Artists Release date(s) 1966 (1966) Running time 103 minutes Country Italy United Kingdom Language English Italian
monsieur rick
After the Fox (Caccia alla volpe) Quotes
There are no approved quotes yet for this movie.
Discussion Forum
Discuss After the Fox (Caccia alla volpe) on our Movie forum!