Efter repetitionen (After the Rehearsal)
(1984)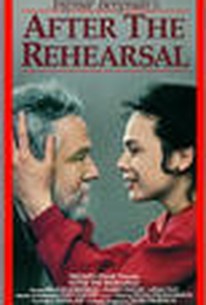 Movie Info
Ingmar Bergman's After the Rehearsal stars Erland Josephson as a theater director named Henrik Volger. He is in the midst of mounting a production of a Strindberg play when he is visited by Anna Egerman (Lena Olin), an actress whom he has cast in the play. Volger was involved with Anna's mother, Rakel (Ingrid Thulin), an alcoholic has-been actress who once was Volger's lover. Rakel intrudes upon their conversation, and the two women confront Henrik about how he has lived his life. This 72-minute production originally aired on Swedish television before receiving theatrical distribution. The cinematographer on the film is Bergman's longtime collaborator Sven Nykvist. ~ Perry Seibert, Rovi
Critic Reviews for Efter repetitionen (After the Rehearsal)
Audience Reviews for Efter repetitionen (After the Rehearsal)
So personal it almost hurts (but hey, the man directed a movie called 'Persona'). But as I always say, a Bergman a day keeps death away. What a filmmaker, and an artist - this is one of his most naked works, and seeing it again I'm reminded how good Erland Josephson was. Lena Olin rises to the challenge too, long before she became a semi-known Hollywood talent.
Jack Gattanella
½
With "After the Rehearsal," Ingmar Bergman limits his tools to one minimal set and just three speaking parts. Erland Josephson stars as Bergman alter-ego Henrik, a veteran "difficult" director who's not shy about bullying actors to get what he wants. He's sitting onstage in an empty theater, lost in contemplation, when actress Anna (Lena Olin) enters. The two have an ambivalent relationship mixing attraction and resentment, and soon are drawn into a long discussion about their own bond as well as the general dynamic between a director and his cast. This obviously serves as a platform for Bergman venting many of his personal ideas and frustrations. But Henrik is also the ex-lover of Anna's late mother Rakel (Ingrid Thulin), a volatile actress who drank too much and erratically veered between arrogance and insecurity. As her foibles are debated, the film's middle detours into an extended flashback conversation between she and Henrik. To add a surreal touch, the set never changes and Anna reverts to a silent, pubescent girl. For the third section, Henrik and Anna wrap up their dialogue, climaxing in an electric exchange where they spontaneously imagine future events as if brainstorming a fresh play. "After the Rehearsal"'s stiff construction is bound to alienate many viewers but, with a 70-minute running time, it's not a rigorous test of one's patience. And Josephson and Thulin are magnificent, of course, just as they were in so many earlier Bergman projects.
Eric Broome
Super Reviewer
½
Excelling tribute to memories and...fading desire.A great t.v. movie and the first one after Bergman's official retirement with Fanny och Alexander.The name Vogler is not a surprise to Bergman fans,moreover the story itself looks as if it's a race for the elderly theater director's life,closing accounts before his imminent (?) death.
Dimitris Springer
Super Reviewer
Efter repetitionen (After the Rehearsal) Quotes
There are no approved quotes yet for this movie.
Discussion Forum
Discuss Efter repetitionen (After the Rehearsal) on our Movie forum!