Aileen Wuornos - The Selling of a Serial Killer
(1993)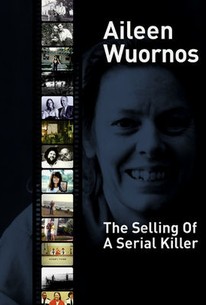 Aileen Wuornos - The Selling of a Serial Killer Photos
Movie Info
Nick Broomfield directed this controversial documentary about Aileen Wuornos, a Florida prostitute who confessed to killing seven men between 1989 and 1990. Though Wuornos claimed to have acted in self-defense, she was convicted of first-degree murder and sentenced to death. While Wuornos was befriended by Arlene Pralle, an eccentric, born-again Christian determined to save Aileen's soul, her lawyer, Steve Glazer, was primarily concerned with whatever money could be gleaned from Wuornos' grisly notoriety. (At one point, he offered to give Broomfield an exclusive interview with Wuornos, and all her personal effects following her death, for 25,000 dollars.) Aileen Wuornos: The Selling of a Serial Killer examines Wuornos' short, strange career as a media figure, and takes a closer look at her crimes as well as at irregularities in the police investigation of the murders. ~ Mark Deming, Rovi
Critic Reviews for Aileen Wuornos - The Selling of a Serial Killer
Audience Reviews for Aileen Wuornos - The Selling of a Serial Killer
½
What makes this revealing documentary so disturbing and tragic is that it shows us that Aileen was clearly in need of psychological help instead of an electric chair and was surrounded by a bunch of self-seeking psychopaths who shamelessly exploited her situation for money.
Carlos Magalhães
Super Reviewer
½
Aileen Wuornos: The Selling of a Serial Killer is a good documentary about Aileen Wuornos, the first female serial killer to be executed. Nick Bloomfield chronicles the case of Wournos, and her conviction of receiving seven death sentences. The film shows how the people around her tried to sell her story and how her case was not properly defended. Of course she was guilty, but what you see on film is how her lawyer was inept in defending Wournos. Bloomfield shows how people who knew Wuornos tried to cash in on her infamy. For what it is, it's a pretty well made documentary on the case and it also shows the cracks as to how the people tried to make money off of her crimes, which is wrong. This is an entertaining film for viewers interested in the case. However to others, they may want to pass it up as this is a hard watch in terms of it subject. Nick Bloomfield crafts a terrific documentary here, one that helps you understand the mind of a killer. The film follows the case clearly, and it is a film that is riveting for what it tries to accomplish. Aileen Wuornos is infamous for her crimes, and this documentary shows us exactly the gravity of what she did. Also, the fact that people tried to make money off her infamy is disgusting and it is yet another prime example of sensationalism for the wrong reasons. Bloomfield direction is very good, the interviews are chilling, and it's a film that tells one part of Wournos' case. Nick Bloomfield would later conclude the Aileen Wuornos story with a follow up film, called Life and Death of a Serial Killer. This part just focuses on her conviction and how the people around her tried to profit from it.
Nice script exploiting the crimes of an allegedly first lady serial killer, and shading light on her impression of this evil world. Even her lawyer and adopted mother are greedy opportunists in her opinion. It's amazing how most people believe this as a reality than a scripted work. (Of course, she's a murderer, but the lawyer and mother's part are somewhat woven out.) Aileen's interview is pushed to the end of the FILM, thereby maintaining the ace in the hole.
familiar stranger
Super Reviewer
Aileen Wuornos - The Selling of a Serial Killer Quotes
There are no approved quotes yet for this movie.