Airport '77
(1977)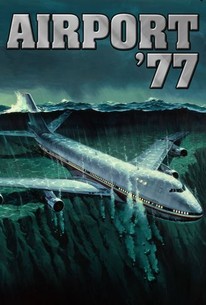 Movie Info
You want reality, get on a bus. You want elaborate, big-budgeted escapism, watch Airport '77. Let's see...we've already had the "bomb or board" plot (Airport) and the "stewardess takes over the controls" bit (Airport '75). That still leaves us the "plane crashes into the ocean" routine. Better still: the 747 is submerged 50 feet into the ocean, but the passengers are still alive and must be rescued before the oxygen supply ran out. Complicating matters are pair of criminals who'd rather there be no survivors. All-star roll call! Sound off now! Jack Lemmon as the pilot, James Stewart as a billionaire art fancier transporting his priceless paintings on the 747, Christopher Lee and Lee Grant as a famed oceanographer and his alcoholic wife (there's always at least one boozer on board), Joseph Cotten as Grant's lover, Olivia de Havilland as an art collector, plane designer Darren McGavin, and George Kennedy as the same guy he played in the first two Airports. While Airport '77 made less at the box office than its two predecessors, it was still profitable enough to spawn yet another sequel: The Concorde: Airport '79.
Rating:
PG
Genre:
, ,
Directed By:
Written By:
In Theaters:
On DVD:
Runtime:
Studio:
Universal Studios
Critic Reviews for Airport '77
Audience Reviews for Airport '77
Third film in the series departs from the first two films and offers something new. The plot works well enough to keep you interested from start to finish, and though it's nothing special, it's actually an improvement over the previous films. However like the first two in the series, this entry still has its limitations. Despite its good plot, and its effort to try something different, the film's script suffers from underdeveloped writing. However the cast here are good and it is one of the best casts in any Airport films. I really enjoyed the film, and this is the perfect little thriller to watch if you're looking for mindless entertainment. But like every other film in the series, don't expect a superb film, and you're sure to enjoy it. I thought this was an underrated entry in the series and because it departs from the first two films, it does something new and exciting. As a disaster flick, this third film works well, and along with the first film in the franchise, I'd have to say this is the best one. However, all of the entries have their strengths and weaknesses. As a third film usually is one of the worst films in the series, this is not the case with Airport '77 is a good film filled with suspense, thrills and has you hooked from start to finish. Disaster films of the 70's were meant as pure popcorn flicks, silly, yet very enjoyable. If you enjoyed the first two films, check this one out. Despite its flaws, this one is good due to good performances from the cast that are good in their roles, and make the film what it is.
Another airport disaster film, if I remember right this was interesting as it dealt with a plane that had crashed and was deep underwater in the ocean. Quite an intriguing film as they try to problem solve how to save the passengers.
This movie follows the same formula as the other airport movies, but I think it has the most stars yet of the series. It's rather slow going, but the ending is pretty cool (until they remind you that it's not a real story, which was stupid). Overall, it's just okay.
Airport '77 Quotes
There are no approved quotes yet for this movie.
Discussion Forum
Discuss Airport '77 on our Movie forum!