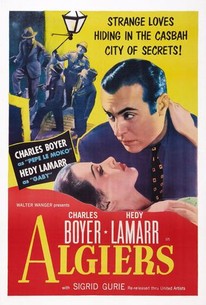 Algiers
1938, Crime/Drama, 1h 35m
2 Reviews
500+ Ratings
Where to watch
Rent/buy
Subscription
Rate And Review
Movie Info
In Algiers, Algeria, notorious thief Pepe le Moko (Charles Boyer) evades police capture by hiding within the maze-like Casbah district. Pepe's renown makes him a popular target not only with policeman Javier but also sympathetic Inspector Slimane (Joseph Calleia) and jealous thief Regis. Through Slimane, Pepe meets the beautiful American Gaby (Hedy Lamarr) and becomes obsessed with her. Regis' plan to lure Pepe out into the open falls apart, until Pepe learns that he may never see Gaby again.
Audience Reviews for Algiers
The American remake of Pepe Le Moko is practically a shot for shot, line for line copy, except for a few "make it clearer for the Murricans" changes that are small. Hedy Lamarr is smouldering, and Boyer is all charm, but still the original French version is slightly better, so see that one first.

"Algiers," starring Charles Boyer, was not nominated for Best Picture in 1938, but it received several major nominations and was one of the big films of that year. It was nominated for Best Actor, Supporting Actor, and Cinematography, among other things, but went home empty-handed. Although I cannot give it more than a 7 rating, I was impressed with the grown-up quality of "Algiers." Whereas other films that year were rather juvenile and went out of their way to appeal to the masses, "Algiers" was dark and mature, presenting a rather cynical view of life. Although (unfairly) forgotten today, "Algiers" in large part inspired 1942's "Casablanca," and I suspect that it helped Roman Polanski conceive "Chinatown." The Oscar-nominated Boyer plays a French criminal mastermind, Pepe, hiding out in the labyrinthine Casbah section of Algiers. The police attempt to apprehend him, but the police force is shot through with so much corruption that it isn't too difficult for a wily criminal to elude their grasp. But enter love. Hedy Lamarr plays Gaby, a woman vacationing in Algiers with a rich businessman to whom she is engaged but with whom she is not in love. When Gaby and Pepe meet, sparks fly. I won't reveal the dark ending, but let's just say that love and criminal plotting don't mix. "Algiers" is not a great film, but it has some very special elements. If it had been edited better and directed with a bit more force, it could have rivalled "Casablanca." Especially noteworthy is the dark, brooding cinematography which might have inspired Orson Welles, who at this time was beginning to dream up his landmark film "Citizen Kane." "Algiers" should be thought of as one of the early examples of film noir.

Not as good as Casablanca but still entertaining, Hedy Lamarr is fantastically beautiful almost otherworldly and plays her part well with a sort of wounded sadness.

I probably would have enjoyed it more had I seen a cleaner copy. Unfortunatley I don't think that this film was ever restored.
See Details