Almost Human
(2014)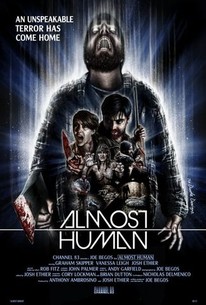 Movie Info
Mark Fisher disappeared from his home in a brilliant flash of blue light almost two years ago. His friend Seth Hampton was the last to see him alive. Now a string of grisly, violent murders leads Seth to believe that Mark is back, and something evil is inside of him.(c) IFC
News & Interviews for Almost Human
Critic Reviews for Almost Human
Audience Reviews for Almost Human
½
A better movie than one could reasonably expect for what, essentially, comes across as more of a horror oriented version of Terminator. I was gonna say a more sci-fi version of it, but that would be a lie, since the first Terminator was very heavy on the sci-fi. It also had action, but not nearly as much as the second film did, which kind of did away with some elements that people enjoyed from the first one. But I digress, I honestly kind of enjoyed this movie for the most part. I would not call it good or anything of the sort, I do think that the climax and some of the 'fighting' sequences were poorly choreographed and not particularly enticing. There's plenty of gore here if that's all you want. It might not be the best gore you will ever see in a film, but I think it's pretty good and it will, at least I hope, hold some people's interest even if they may not be invested in the story. Here's the thing, though, this Joe Begos' first full-length film according to his profile on here. He has no other credits. Of course I'm sure that he's done short films and other projects with people that he hasn't been given credit for. But, as far as a first time director, Begos already has a good handle on how to build up the tension and how to pace himself so as to not peak early and have the rest of the film after that peak be considerably worse and worse. That's a big problem in horror films, honestly. Not many how to pace themselves and it ends up leading to films wasting their own potential. Begos, at the very least, does have some handle on how to tell his story to get the most out of it. It might not be a great movie, but he does manage to get more out of it than most would. Like I can imagine that, if given a bigger budget, that Begos can do so much more than I think many people would think upon watching this film. But, like I did mention at the beginning, there's some rough spots in its climax. I don't know, while parts of it were great, like the ending for example, there were also parts of it that didn't feel satisfactory given what the film was building up to. It just doesn't work as well as it should to make this a good movie. With that said, and I may not give this a glowing recommendation, it's a movie that I would still recommend to genre fans. I think there's stuff that a lot of people would like here, even if it's not particularly refined or smooth. I'm honestly really looking forward to what Begos does next, particularly if he gets a bigger budget the next time out. This isn't a good movie, but it's a decent first shot.
Jesse Ortega
Super Reviewer
Almost Human Quotes
There are no approved quotes yet for this movie.
Discussion Forum
Discuss Almost Human on our Movie forum!