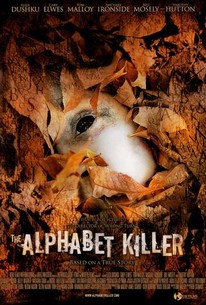 The Alphabet Killer
2008, Crime/Drama, 1h 38m
8 Reviews
5,000+ Ratings
Where to watch
Rent/buy
Rent/buy
Rent/buy
Rate And Review
The Alphabet Killer Photos
Movie Info
Former cop Megan Price (Eliza Dushku) investigates a murder similar to one that drove her crazy.
Audience Reviews for The Alphabet Killer
The Alphabet Killer was a dull, boring and totally unimpressive psychological horror film based on real facts. The film fails to be interesting and the performances are poorly delivered. I felt bored most of the time watching this, and considering that this is based on real facts, I expected something much better than this. The movie was not worth seeing, and it could have been made much better. This is the type of film that had the potential of being much better, but the filmmakers rely on a poorly written script that just fizzles out towards the middle, and the film ends on a bad note. This is a film that definitely needed to be much better because of the fact that it's based on real events. The tension on-screen, and ultimately horror is not quite there, and it just ends up being a waste of time. The Alphabet Killer could have been a much better film, but the filmmakers have crafted a dud that will surely displease genre fans. I really wanted to enjoy this film, but it was just an awful mess that failed to be entertaining. If you're looking for an effective horror film, you won't find it here. This is a bland affair with a poor storyline and no redeeming qualities. If the film would have been rewritten a few times, then the film would have been much better and not the pointless mess that it turned out to be. The Alphabet Killer is not worth your time. Watch something else instead; you'll be glad you did.

This felt like a made for tv movie. It lacked anything interesting including good performances.

Predictable and boring, this movie was stuck somewhere between a horror film and a crime thriller. Even though it may have been loosely based around true life events, as always I think Schmidt's poetic authority as director fabricated the more silly elements of what could have been a really good story. I knew who the killer was the second time I saw him and without the risk of spoiling a plot that a toddler could unravel, the attempts made at hiding the killer are mediocre. Disappointing.

Megan Paige: Mostly the job is to ask questions. The frustrating part, the part that drives you crazy, is that the people you really want to talk to are dead.  This is how bad this movie is. No when I'm about to go to the bathroom I say, "I'm going to go take an Alphabet Killer." This movie is horrible. I couldn't believe some of the stuff I was watching. I've seen some really bad serial killer movies, but this is probably the worst. It takes itself seriously and shows these horrible hallucinations of ghosts that is so cheap and bad looking. The lead character is horribly written and isn't believable at all.  The lead character is Megan Paige played by Eliza Dushku. She gives a horrible, horrible performance and is laughable in everything she does. Everything from how she stares at the pictures of the crimes, cries, talks and tries to get the audience to take her seriously. She's a pretty horrible casting decision. Now I know this is a direct to DVD movie and it isn't going to be great, but come on. If you can't even make a movie that can't even just be considered bad; don't make a movie. The movie is deplorable and should not be viewed by anyone. It's one of the very few movies I've seen that I see as a complete waste of my time. Most movies, be it good or bad, I can take something that I liked away from it. This movie has nothing good about it. There's nothing you can take away from it, except for how bad it is. If you want to watch a movie that will completely stun you, watch this. It's stunningly bad. Synonymous with Shit.
See Details