Alphaville
(1965)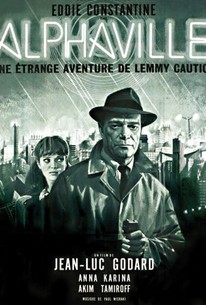 TOMATOMETER
AUDIENCE SCORE
Critic Consensus: While Alphaville is by no means a conventional sci-fi film, Jean-Luc Godard creates a witty, noir-ish future all his own.
Movie Info
In Alphaville, Jean-Luc Godard fuses a hardboiled detective story with science fiction. Lemmy Caution (Eddie Constantine), a hero Godard borrowed from a series of French adventure films, comes to Alphaville, the capital of a totalitarian state, in order to destroy its leader, an almost-human computer called Alpha 60. While on his mission, Lemmy meets and falls in love with Natacha (Anna Karina), the daughter of the scientist who designed Alpha 60. Their love becomes the most profound challenge to the computer's control. Void of any flashy special effects, Alphaville uses 1960s Paris to depict the city of the future.
Critic Reviews for Alphaville
Audience Reviews for Alphaville
½
Combining my favorite concepts of dystopian civilizations, much on the same wave lengths as Orwell's '1984' and Huxley's 'Brave New World', and Film Noir, "Alphaville" is set in a technocratic dictatorship in which emotions are considered obsolete and public exhibition of them is against the law. The concept of the individual self is explored throughout the film with great razor-sharp wit and accuracy by New Wave master, Jean-Luc Godard. The dangers of technologic advancement and abuse are in constant play, and no one else could have played the lead like Eddie Constantine, and we are treated to brilliant performances by the whole cast. A futuristic film that was shot on the streets of Paris makes this film far closer to home than expected.
Matthew Roe
Super Reviewer
Technically sloppy but effective science fiction from the directorial stewardship of Jean-Luc Godard. To me, Godard is like the Jackson Pollock of filmdom - I appreciate his contributions to the art-form but I wouldn't want his stuff in my house.
Randy Tippy
Super Reviewer
"Time is the substance of which I am made. Time is a river which carries me along. But I am time. It's a tiger, tearing me apart; but I am the tiger." Lemmy Caution, an American private-eye, arrives in Alphaville, a futuristic city on another planet. His very American character is at odds with the city's ruler, an evil scientist named Von Braun, who has outlawed love and self-expression.
REVIEW
This film, from director Jean-Luc Godard, one of the luminaries behind the French "Nouvelle Vague" (or "New Wave") film movement, is science-fiction like you've never seen before. The story tells of tough private-eye Lemmy Caution (Eddie Constantine), who arrives in the futuristic city of Alphaville to search for a missing scientist. Controlled by the powerful computer Alpha 60, the brainwashed citizens of Alphaville live lives devoted to logic and devoid of emotion. The film was made entirely on location in Paris, selectively shot to give the appearance of a futuristic city, and Lemmy Caution travels through intergalactic space in a Ford car. The film is interesting and quite entertaining if you know what to expect. Some viewers may find Godard's offbeat style irritating and the frequent, long academic discussions dull, but ti is worth making the attempt if only to experience something completely unexpected. Inevitably dated, the film has still aged quite well. Glamour is provided by the lovely Anna Karina, Godard's wife at the time, as the scientist's daughter.
Lorenzo von Matterhorn
Super Reviewer
Alphaville Quotes
There are no approved quotes yet for this movie.