American Fable
(2017)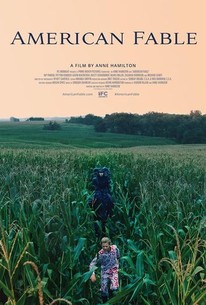 Movie Info
A dark, dreamlike mystery plays out amidst the expansive farmlands of the American Midwest in this wondrous, storybook thriller. With her family's livelihood imperiled by the farm crisis of the 1980s, eleven-year-old Gitty (Peyton Kennedy) loses herself in a world of fantasy and make believe. But she stumbles into her own fairytale when she makes a startling discovery: a well-dressed mystery man (Richard Schiff) being held captive in her family's silo. It's the beginning of a labyrinthine journey that will turn Gitty's world upside down and force her to question her loyalty to her own family. The feature debut from director Anne Hamilton unleashes a torrent of gorgeous, stunningly surreal images as it immerses viewers in a child's imagination.
News & Interviews for American Fable
Critic Reviews for American Fable
Audience Reviews for American Fable
Sometimes there are just films that stump me That's, obviously, a bit misleading. What I mean by that is that I don't really know where to even start with the review. What I've been doing lately is sort of starting out with some unrelated thoughts, whether they be regarding the genre the film is or how the film itself (or its themes) might relate to some element of my life. And there's absolutely nothing about this movie, its characters or its themes that relates to anything that has happened in my life. One of the film's minor themes is how everything in the film, at least between Gitty and her dickhead brother, is like a chess game, strategic and full of twists and turns. I used to play chess and now I can't even remember how to play the fucking thing. Maybe I'll give it another whirl sometime in the near future. I probably won't, but let me dream about having goals, damn you all!!! But I digress, what can I say about this movie. One of the first thing that comes to mind, and this is something that I was noticing as I was watching, is that this is definitely a laborious movie to sit through. I think there's a reason only 39% of people on Rotten Tomatoes gave this film a score of over 3.5. I'm not one to let myself be influenced by scores from audiences, or reviews from professional critics for that matter. I try to read as very little as humanly possible from anyone else, simply because I don't want to let others' opinions of a film to affect my own. Like I'll listen to someone I trust if they share their opinion with me, but I like to go in with an open mind. Anyway, the point I'm trying to make is that I can see how people might have been bored by this, its pace is certainly not the most inviting for people with very little patience. Thankfully, though, I am not one of those people. And I found that the longer the film went, and the more the pieces of the puzzle fell into place, the more satisfying the narrative got. I'm not gonna sit here and say that I thought the film was very good, because it wasn't consistent enough for me to say that, but I definitely thought this was a good watch. Again, it's a story that will take a little bit before you're able to really get into it, but it's a good movie with an excellent lead performance from Peyton Kennedy. Apparently she was in XX (an anthology horror film I saw and reviewed recently), but I have absolutely no recollection of her. She's been fairly active for someone her age and she isn't as inexperience as I thought, but it's still pretty impressive to see someone that age (she was probably 11 or 12 at the time this was filmed) give a performance so damn strong. She plays this girl that is, quite literally, stuck between a rock and a hard place. She befriends this man in the grain silo that her father kidnapped. This man is buying up property all-around and the family, to avoid having their farm closed down, kidnaps this man to keep him doing so. Gitty, as I mentioned, befriends this man when she meets him, she literally has no friends. So she struggles between what is right and the loyalty to her family. I think the film plays with that dynamic well. Perhaps not as well as they should have, but they do a good job with it. I think it covers the mentality that farmers in the 80s might have had from these 'city types' or 'rich assholes' coming and buying up what they worked so hard to build. So I can certainly understand the family's view on this. But it's not necessarily this man's fault that the farms were failing. If the farms weren't, eventually, going out of business, there would be no need to buy them or the land that they're on. So I can understand the man buying up the land, Jonathan, just seizing a business opportunity. Though, in a lot of cases, I'd tend to side with the little guy. But Jonathan isn't do anything that's, legally, wrong. So what's being done to him is legally and morally incorrect, despite how the family might see things. There's also a dreamlike quality to the film as, in some scenes when Gitty is running through the fields, she is followed by this armored...knight. Which ties back to the chess elements in the film. There's this idea that there's two types of people in the world, the warriors (who are those who protect the weak) and 'farmers' who don't really do anything about it. And I think that's what the knight represents, at least how I see it. But that's just my interpretation. Not saying it's right, not saying it's wrong. It's a film that certainly has more on its mind than one would expect when going over it. I'm still not comfortable giving this 3.5 stars. I think it's a solid, good movie with an excellent lead performance. I just think the pacing could have been a bit better, but that's neither here nor there. This is still good and you should give it a shot, if you've got the patience.
Jesse Ortega
Super Reviewer
The distance between American Fable and "good" is pretty substantial, but still, points for originality.
American Fable Quotes
There are no approved quotes yet for this movie.